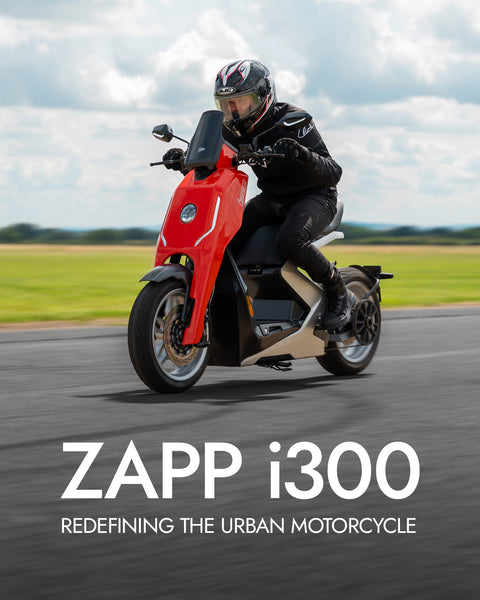 What is the Zapp i300?
Zapp's unique i300 electric motorbike is probably the most interesting new contender for the crown of ultimate urban mobility machine.

It's an all-electric machine that combines the versatility and practicality of a 'step-through' (aka scooter) with the superior riding experience of a 'step-over' (aka motorcycle).

It boasts twin low-weight batteries that can be effortlessly lifted out and charged, an incredibly powerful 14kW electric motor and range of nearly 40 miles.

Removable batteries
Twin ultra-portable 6kg battery packs can charge at home, work or in a café, with no need for charging infrastructure. They can charge from 20 to 80% in less than 40 minutes with the optional fast charger via any standard 220V/110V wall socket.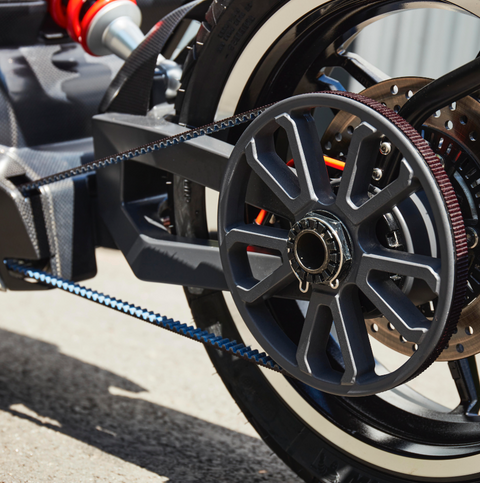 Rear-swing arm
Superbike-inspired suspension includes preload adjustable upside-down forks at the front, and a pre-load monoshock and rebound adjustable true-pushrod coil-overs on a single swingarm at the rear. Advanced ABS brakes enhance performance and efficiency.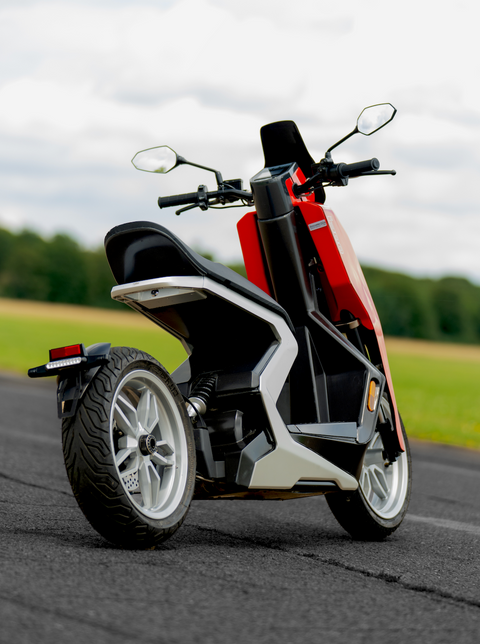 Stunning design
The i300 has been awarded a coveted Red Dot Award for Product Design thanks to striking visual feature such as its Z-shaped exoskeleton, constructed from a pair of recyclable, ultra-lightweight, one-piece aluminium blades.
Built to your specification
Zapp's patented removable front fender offers wide ranging colourway personalisation options. At any point after purchasing their i300, customers will be able to have the front fenders removed and replaced with new items in a colour of their choice. The personalisation upgrade will be carried out by an authorised 'Zapper' who will come to the customer's home or workplace.

Who Are Zapp?
Zapp was founded by Swin Chatsuwan, who has extensive senior leadership experience in the global finance and automotive sectors and is a lifelong motorcyclist. He came up with the idea for Zapp when he couldn't find a two-wheeled EV that ticked his boxes when it came to urban riding, sustainability and performance.

"I wanted a two-wheeled EV that truly exploited electrification, and was not merely an existing design with an electric motor and a huge battery bolted to it. Like many bikers, I do most of my riding around town, therefore I wanted to have genuine full-cycle sustainability all the way from manufacturing to recycling, not merely zero tailpipe emissions."

Zapp Electric Vehicles Group Limited was listed on Nasdaq in May 2023. Its European headquarters are in the UK, with a Customer Experience Centre & Global Training Centre in Bicester, Oxfordshire.

Why do we like Zapp's i300?
At Electroheads, we're big fans of well-designed, well-engineered electric products that can make our cities cleaner to live in and easier to get around. The i300 promises to be one of those products.

It's been conceived by a team of committed bikers who understand what makes a proper performance machine, but also understand the needs of city riders: instant performance, responsive but nimble handling, excellent brakes and agile steering.

We've ridden a Zapp prototype at their Oxfordshire test track and can report that the i300 delivers exactly that.


Why electric urban motorbikes have a vital role to play in cleaner cities
The all-electric Zapp i300 was created to fulfil the needs of riders in cities across the globe. Offering zero-tailpipe-emission, high-performance two-wheeled urban mobility, it arrives on the market just ahead of imminent bans on internal combustion engine motorcycles and scooters in many cities around the world. 
Zapp's founder, Swin Chatsuwan, says the need to fight climate change and provide clean urban mobility was a huge driver behind the formation of the Zapp brand:
"Government legislation will force many internal combustion-engine motorbikes and scooters off the road. There are 39 million motorcycles in Europe, most of which will become illegal to ride in many major cities by 2030. Already, nine European cities have announced ICE vehicle bans by 2030. Advanced, sustainable machines like the i300 are essential in providing the next generation of all-electric rides. That's what Zapp is here to do."