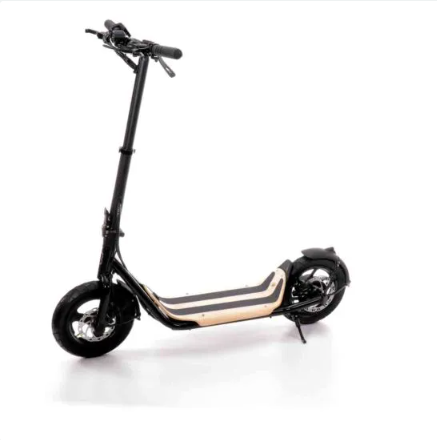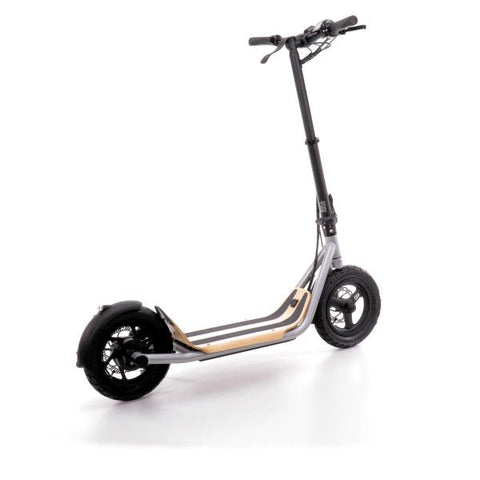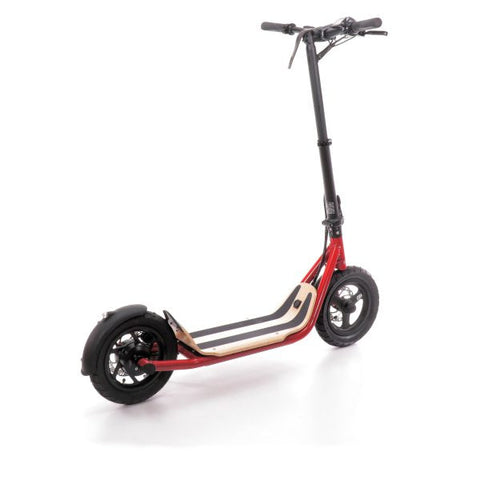 8TEV B12 Classic Electric Scooter
FREE shipping in the UK 🇬🇧
Usage of e-scooters is not legal on public roads, sidewalks or footpaths in the UK 🇬🇧 For more information, please click here.
The B12 classic is squarely aimed at safe, fun urban riding - with a clean design. It boasts great steering, larger wheels, new battery technology and hydraulic brakes. Plus enugh space to stand facing forward.
Electroheads Verdict
By Eilis Barrett
We love the responsiveness of the B12's ride as much as we admire its looks. We were a bit worried when we saw it didn't have suspension but the plywood deck acts as a sponge and is surprisingly effective, helped by the 12-inch wheels.

The platform's nice and big so you can ride it in a variety of ways including shoulders straight ahead.
Specification
Power and performance
• Range - 31km
• Top speed - 34.9kmh
• Motor - Aikema SW 100 250W peak 700 - 500 W (Avg)
• Speed modes - 3 gears
• Charge time - 6 hours
• Battery - 48V/ 9.7Ah

Build
• Tyres - 12"
• Water resistance - IPX6 (high pressure, heavy sprays of water)
• Weight - 17kg
• Tyre pressure - 40psi
• Size folded/unfolded - 115cm
• Maximum load 120KG

FEATURES
• Lights - front and rear LED
• Bell/horn - yes
Shipping & Warranty
We offer free next-day delivery for 8TEV scooters. A small selection of products require two-man delivery due to their weight, and will require two days delivery. You will be kept updated of your expected delivery time throughout the process.

All 8TEV scooters come with a 2 year warranty.
Free Test Rides!
We offer free test rides of all our products at our London Bridge showroom, on Weston Street. Our team of experts will be on hand to answer all your questions.
We look forward to seeing you!
Why buy from Electroheads?
• We have free UK shipping on most products in our range.
• We are rated "Great" by our customers on TrustPilot.
• We offer 30 day free returns as standard (see our returns policy here).
• We offer at LEAST a 1-year warranty on ALL products.
• Our customer service is dealt with by real people in the UK, and we're always happy to hear from you.
• We're not just a website. You can visit us at our London Showroom where we have full-time mechanics and customer care.
Don't just take our word for it!
Customer reviews:

Daniel Hogarth
Jeep Camou - verified buyer
The jeep camou 2xe has been a game changer. I love riding it. The scooter is fantastic, and the service from Electroheads was great, and the product arrived promptly.

★★★★★

Aris Donahue
Estarli e28 - Verified Buyer
I took a look at the tenways, but I ended up going for a Estarli e28 pro - pretty simliar price and specs.

★★★★★
Andrew Fellas
Estarli e20 - Verified Buyer
Electroheads' social media reviews are not only accurate, they are very helpful & enjoyable to watch. This led me to making a purchase via their website, the service I received was excellent and the item arrived on time. I would thoroughly recommend Electroheads.

★★★★★