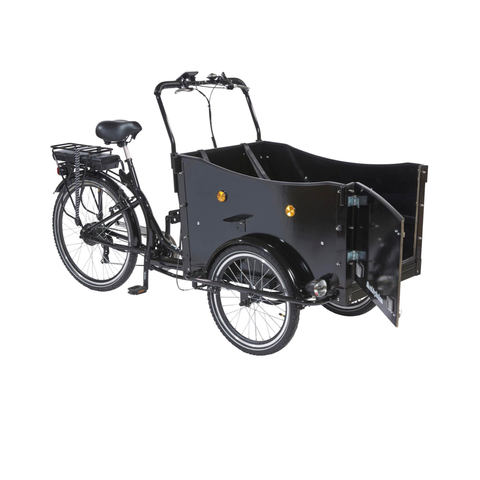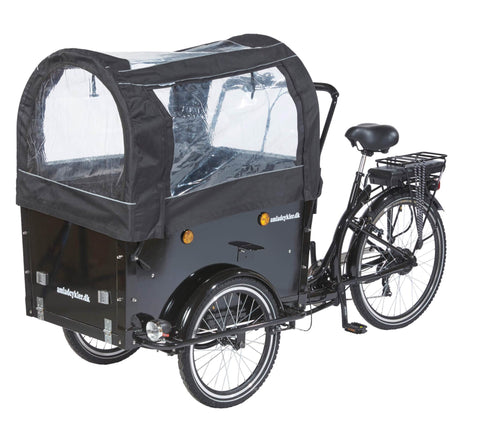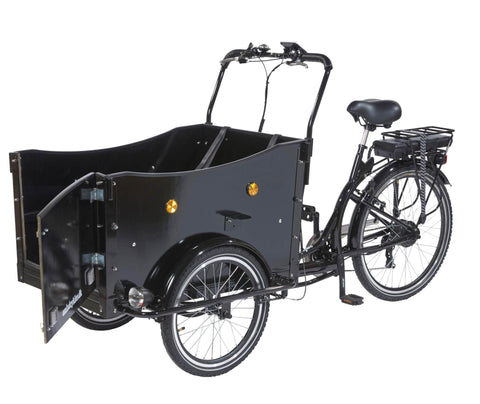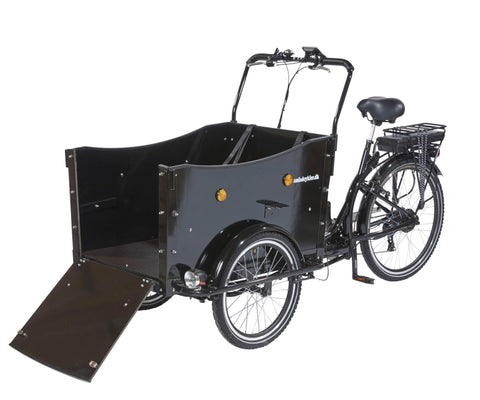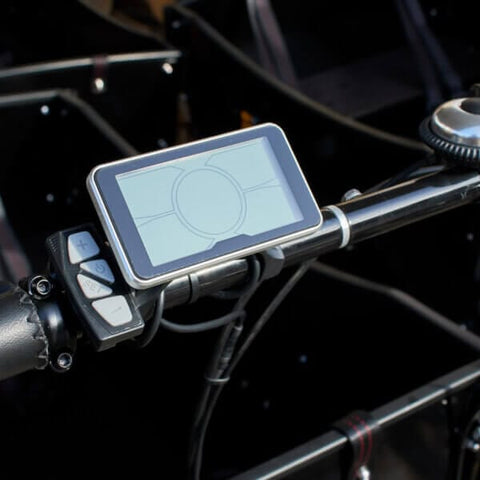 AM Cargo Dog Friendly Electric Trike
Free UK shipping 🇬🇧
If you need a cargo bike specifically designed for dogs, this Danish built bike is the one. With a ramp that folds down, perfect for small machines or animals and a secure door to keep the cargo in place. With a range of accessories included, such as a canopy, lights and a luggage rack, it's a fantastic choice. Boasting a loading capacity of 150 kg and a spacious box measuring 91 cm x 59 cm, it provides ample room for your furry companions. 
Specification
Specification:

•Colour: Black frame (5 treatments containing: Paint, lacquering, antirust treatment and anti-slip seal)
•Display: Easy and user-friendly Deluxe Digital LCD display with 6 different speed limit.
•Electronic "Walking mode": Hold down a button on the display and the bike drives up to 5 km/h.
•Motor: Powerful and robust 250W Brushless engine with latest "Low-Energy Consumption & No Noise" technology and provides up to a maximum of 25 km/h at the highest speed level and of course CE approved.
•Battery: 36V, 9 Ah Li-ion battery – Anti-theft lock (CE, GS and TUV approved).
•Charger: Smart charger that stops charging when the battery is fully charged (CE, GS and TUV approved).
•Gear: 6 external Shimano Tourney(SIS) gear with freewheel and a Shimano gear shifter.
•Brakes: 2 Promax front brakes (V-brakes) & 1 back brake (V-brake) + parking brake
•Front wheel: 20″ Kenda tire.
•Back wheel: 26″ Kenda tire.
•Rims: Aluminum wheels with sturdy spokes.
•Loading capacity: 150 kg.
•Box dimensions: 91 cm. x 59 cm. (LxW)
•Weight: 47 kg.
•Dimensions: 214 x 88 x 126 cm.
Shipping & Warranty
SHIPPING, WARRANTY, AND DELIVERY:

Warranty:
AMCARGOBIKES offer a 10 year frame warranty against Cracking / Breakage of the load / vital parts of the bicycle frame (not fork) as a result of normal private use
as well as proper storage

Delivery:
Amcargobikes offers delivery of your new bike or product to your desired shipping address.

Special conditions:
During busy periods, there may be extra delivery time. Any damage during transport must be immediately reported to the shipping company and Amcargobikes. Please note that our bikes are hand-assembled, so small scratches may occur. If you want to cancel your purchase, you have 14 days to do so from the date of receipt.

Return of goods:
If you wish to return a product, you must do so without undue delay and no later than 14 days after notifying Amcargobikes of your intention to cancel the purchase. Return transportation costs are the responsibility of the customer. Bikes that have been 100% assembled may require special arrangements for return. You are liable for any deterioration in the product's value due to handling beyond what is necessary to determine its nature and characteristics. The refund will be issued within 14 days of receiving the returned goods, excluding delivery costs.

Please remember to enclose a copy of the order confirmation or invoice when sending back the product.


Join our growing base of happy customers:

Andrew Fellas
Estarli e20 - Verified Buyer
Electroheads' social media reviews are not only accurate, they are very helpful & enjoyable to watch. This led me to making a purchase via their website, the service I received was excellent and the item arrived on time. I would thoroughly recommend Electroheads.

★★★★★

Aris Donahue
Estarli e28 - Verified Buyer
I took a look at the tenways, but I ended up going for a Estarli e28 pro - pretty simliar price and specs.

★★★★★

Daniel Hogarth
Jeep Camou - verified buyer
The jeep camou 2xe has been a game changer. I love riding it, and I'm saving money on fuel. The scooter is fantastic, and the service from Electroheads was great, and the product arrived promptly.