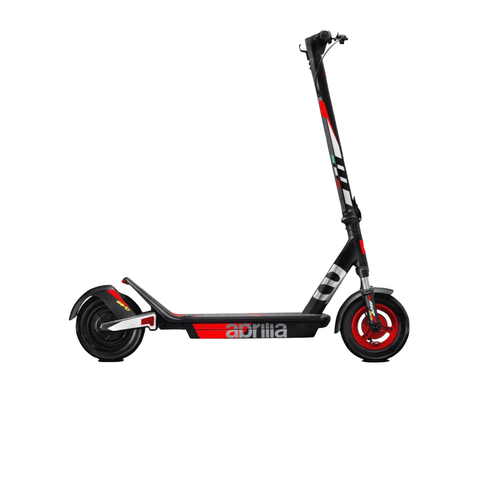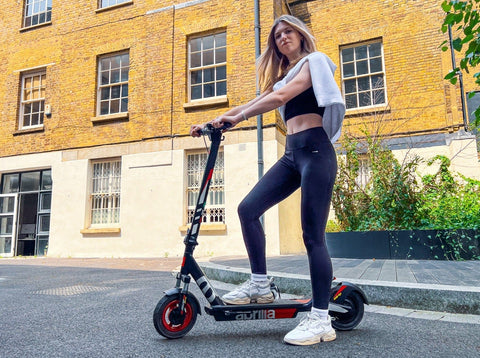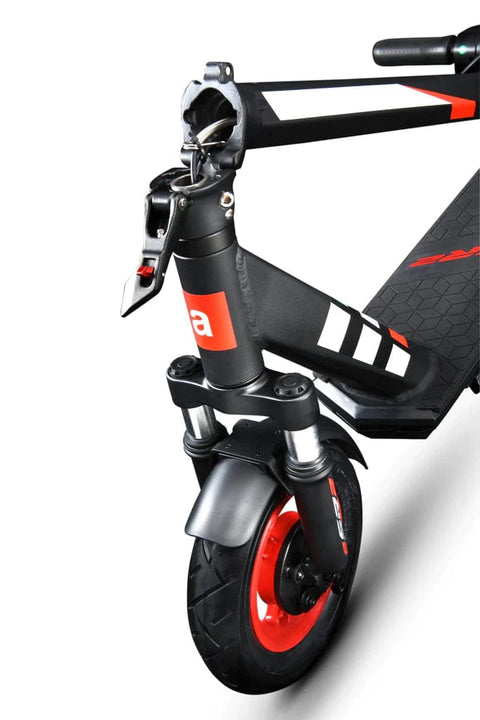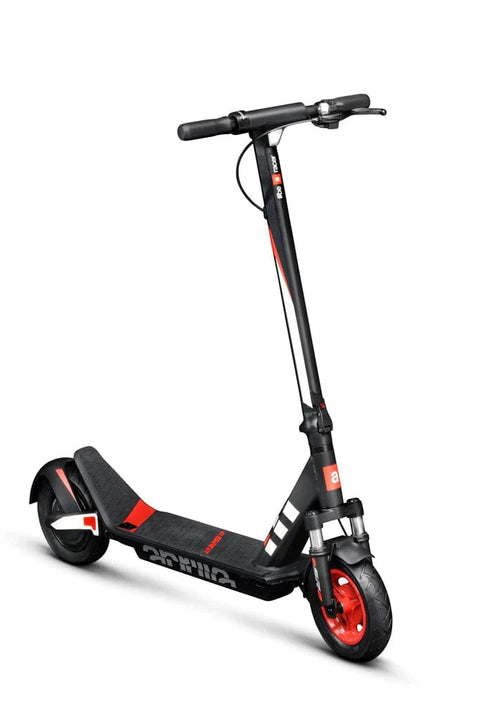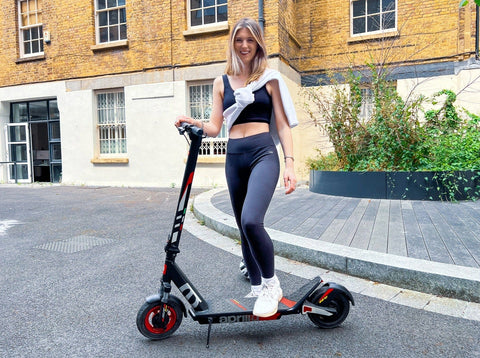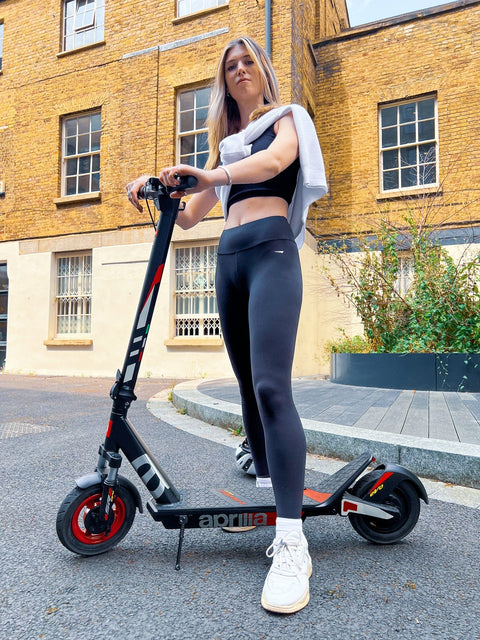 Aprilia eSR2 EVO Electric Scooter
FREE shipping in the UK 🇬🇧
Usage of e-scooters is not legal on public roads, sidewalks or footpaths in the UK 🇬🇧 For more information, please click here.
The EVO is the latest iteration of the eSR2. This upgraded version features a 500W brushless motor and a 48V 14.4Ah 691 Wh battery – which promises a range of up to 50km on a single charge.


The upgrade also brings double front and rear suspension for increased comfort on uneven surfaces, a rear KERS electronic brake for supreme stopping power, as well as front, rear and bottom deck LED lights – a standout feature if you want to be seen and look the business at night. 
Electroheads Verdict
The ESR2 Evo from Aprilia is a stable, sturdy scooter that clearly has high build quality, which you can feel when riding. Thanks to the front and rear suspension, the scooter feels grounded. The rear suspension in particular, is excellent at removing the kickback at the rear of the scooter when riding over uneven ground.

The Evo utilises a 500W brushless motor, with a massive nearly 700wh battery, and regenerative braking! This allows the Evo to travel up to 50 km (31 miles) per charge, a number that not many other scooters in its price range can reach. However, this does mean the scooter is slightly heavier at 18.5kg.

But in mode 3, the motor is more than powerful enough, and you really feel it when you accelerate, with it quickly getting up to top speed; despite myself being over 90kg in weight and therefore close to the 100kg limit, the scooter did not feel slow. Never did it feel uncomfortably fast either, I always felt in control.

I could see a range of riders using this e-scooter, from novice to more experienced. The added comfort of the suspension really gives you a sense of security on the scooter, especially when going high speeds over bumps in the road.

The Evo is just so comfortable to ride. When I was testing the e-scooter in and around the Electroheads HQ, where much of the road is made up of old Victorian cobbles, it performed really well on this rough terrain. The suspension and the large soft 10-inch tyres do an amazing job at taking the bumps out of the road.

In terms of handling, the high build quality and extra weight of the huge battery do not take away from how agile this scooter is.

Review by Josh Lyons
Specification
POWER & PERFORMANCE
• Battery: 48V, 14.4Ah, 691Wh
• Charging time: Approx. 7 hours
• Hub motor: 500W brushless
• Max speed: 25 km/h
• Electric power range: Up to 50 km
• Max load: 100kg

BUILD
• Frame: Aluminium alloy
• Folded dimensions: 1215 x 455 x 550mm
• Unfolded dimensions: 1215 x 455 x 1185mm
• Weight: 18.5kg
• Tyre size: 10 inches / 25.5 cm
• Tyres: 10'' air chamber rear and back
• Front and rear brakes: Double brake- front drum brake and rear disk brake, KERS

FEATURES
• Display: Integrated LED display and bluetooth connection through user app
• Lights: Front, base and rear LED lights
Shipping & Warranty
We offer a 2-year warranty on all Aprilia products.

Our Aprilia scooters are typically delivered within 3-5 working days, and we offer a 14-day, no-hassle returns policy to any unused scooters with the original packaging intact. If you are returning your product, you may have to cover the cost of the shipping charges.

For more information, please contact us by emailing hello@electroheads.com
Free Test Rides!
We offer free test rides of all our products at our London Bridge showroom, on Weston Street. Our team of experts will be on hand to answer all your questions.
We look forward to seeing you!
Why buy from Electroheads?
• We have free UK shipping on most products in our range.
• We are rated "Great" by our customers on TrustPilot.
• We offer 30 day free returns as standard (see our returns policy here).
• We offer at LEAST a 1-year warranty on ALL products.
• Our customer service is dealt with by real people in the UK, and we're always happy to hear from you.
• We're not just a website. You can visit us at our London Showroom where we have full-time mechanics and customer care.
Don't just take our word for it!
Customer reviews:

Daniel Hogarth
Jeep Camou - verified buyer
The jeep camou 2xe has been a game changer. I love riding it. The scooter is fantastic, and the service from Electroheads was great, and the product arrived promptly.

★★★★★

Aris Donahue
Estarli e28 - Verified Buyer
I took a look at the tenways, but I ended up going for a Estarli e28 pro - pretty simliar price and specs.

★★★★★
Andrew Fellas
Estarli e20 - Verified Buyer
Electroheads' social media reviews are not only accurate, they are very helpful & enjoyable to watch. This led me to making a purchase via their website, the service I received was excellent and the item arrived on time. I would thoroughly recommend Electroheads.

★★★★★