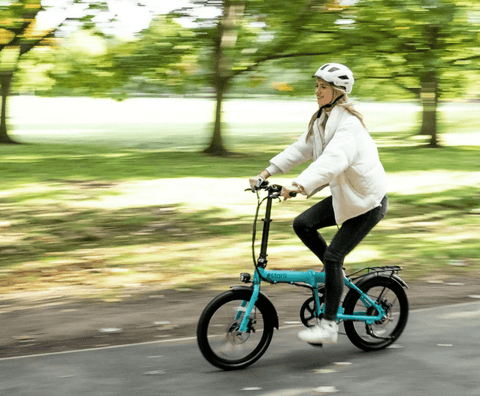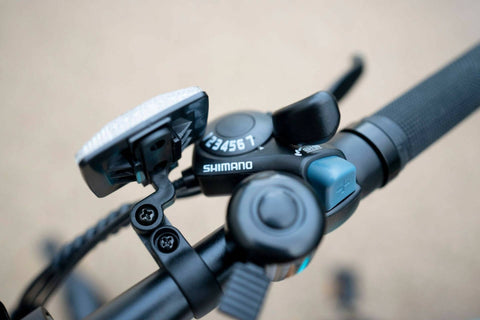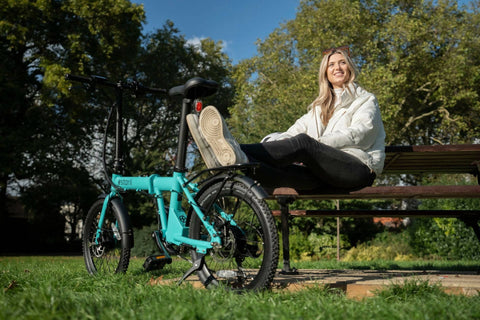 Estarli e20.7 Comfort Foldable Electric Bike
FREE 5-7 day shipping to UK 🇬🇧
Save between 22% and 42% when purchasing with a cycle scheme. Learn more here.
The Estarli e20.7 is a lightweight, folding e-bike that's suitable for both commuters and weekend adventurers. The Pro version is fitted with a tyre guards and a rack.

It's for people who want maximum flexibility with their ride; something to get them to work, something to keep them fit, something that can go in the car or on the train, something for weekend rides with the family.
It really is the e-bike for everywhere and the beauty is, it folds down into a compact form that means you can store it in a cupboard or closet.

Hand-built in the UK, and with manufacturer's 2 year warranty, this is a quality bike that you can buy with peace of mind - it's one of three Estarlis
 in 
our new list of best electric bikes
.
Electroheads Verdict
By Eilis Barrett (Electroheads ebike expert)

The e20 seriously knocks the spots off a number of more expensive foldable e-bikes. Pound for pound, it's one of the best foldables I've ever tested.

Weighing in at just 17.5kgs, and taking just 10 seconds to fold down, it's a genuinely portable bike.

I must admit I was hesitant when I first saw it that it would be uncomfortable to ride with no suspension, however the hybrid tyres soak up impact nicely

Spending a bit extra on a pro means you get mudguards and a rack which for me is a no-brainer having extra cargo space available and kitting it out so you can take on the rain/mud without any problems.

The secret battery in the seat post is an awesome design feature, meaning styling isn't compromised by a battery being slapped on.

A removable battery is an important feature that I love to see. It means you can charge your battery separately from the bike, and it's also an added security measure - if you need to lock up the e20 outside, you can take the battery with you.

The 7 Shimano gears and 6 levels of power assist mean you can tackle a a range of tricky terrains with no qualms, this is certainly as useful on trails as it is on roads.

With a range of 50km, you could easily get a number of commutes out of the bike without having to charge it. And it has plenty of range for a leisurely weekend ride.

The Estarli e20 is a brilliant all-rounder that will have you itching to go out on weekend adventures.

Not only that, we love Estarli because it's an e-bike brand run by genuine bike nerds.

And because of that, Estarli's bikes boast great components and excellent build quality. Every single bike is hand-built at their Chilterns workshop in the UK.
Specification
BUILD
• Sizing - One size fits all. Typically suitable for adults from 5'0 to 6'5.
• Max Rider Weight - 110 kgs
• Folded Dimensions - 45cm x 66cm x 84cm
• Frame Material - High strength 6061 aluminium.
• Wheel Size - 20 inches
• Weight - 17.5 kgs
• Gears - Shimano 7-speed
• Brakes - 160mm disc brakes front & rear
• Assembled & built - Berkhamsted, UK

POWER AND RANGE
• Range - 50km (unlimited without power assist)
• Motor - 250 watt, 40nm high torque, 36v. Brushless hub motor.
• Battery - Samsung/Panasonic 7.2ah 36v, hidden in seatpost.
• Charging - 3-5 hours (110v - 240v). Charger included.
• Speed - 15.5mph (UK e-bike speed limit)
• Power Modes - 6 power assist modes

FEATURES
• Display - Waterproof display with USB charging
• Lights - Front & rear
• Mudguards - available on e20 Pro
• Rear Rack - available on e20 Pro
Shipping & Warranty
Shipping (Free):

UK: Standard Tracked UK Delivery - 5-7 days
EU*: Standard Tracked EU Delivery - 7-10 days

Manufacturer's Warranty:

All Estarli bikes come with a 2 year warranty. For more information, please visit this link: https://www.estarli.co.uk/pages/warranty

*Orders shipped to the EU will not incur customs or import duties.
Favourite folder
The Estarli e20 has been one of our favourite folding bike ever since we opened our marketplace.
A practical, straightforward and user friendly electric bike that can be ridden by anyone, anywhere, for any reason.
This is as good as a Brompton, MiRider, or GoCycle for half the price. So why not buy two?
Three of the coolest features on the Estarli E20.7: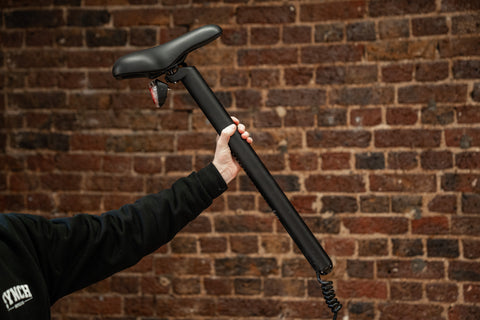 Saddle battery
The e20's battery is neatly hidden away in the seat post, meaning you can take the whole battery out of the bike for charging – saving you the hassle of bringing your bike indoors.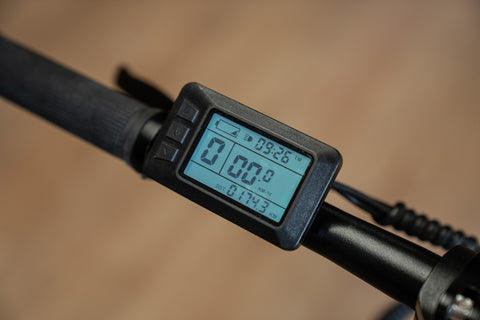 Clear display
The large screen and easy to read display allows you to toggle your pedal assist mode, track all your ride stats, monitor your remaining range and activate the integrated front light. Easy!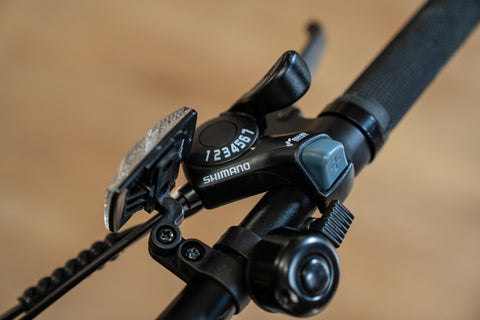 Seven gears
The e20 sees hills approaching and laughs, the seven-speed Shimano gear set in combination with the 250W motor helps tackle even the most hilly terrain without breaking a sweat.
Take it anywhere
Compact fold
Rear pannier rack
Pack up, head out
Want to read more?
Check out our full review of the Estarli e20, with our Ride and Review star ratings and further detail on the important features.
Get the best price
Can't wait to get your hands on a new e-bike, but always want the best deal?

Save up to 42% with the Cycle to Work scheme. You can learn more here.
Join our growing base of happy customers:
Andrew Fellas
Estarli e20 - Verified Buyer
Electroheads' social media reviews are not only accurate, they are very helpful & enjoyable to watch. This led me to making a purchase via their website, the service I received was excellent and the item arrived on time. I would thoroughly recommend Electroheads.

★★★★★

Aris Donahue
Estarli e28 - Verified Buyer
I took a look at the tenways, but I ended up going for a Estarli e28 pro - pretty simliar price and specs.

★★★★★

Daniel Hogarth
Jeep Camou - verified buyer
The jeep camou 2xe has been a game changer. I love riding it, and I'm saving money on fuel. The scooter is fantastic, and the service from Electroheads was great, and the product arrived promptly.