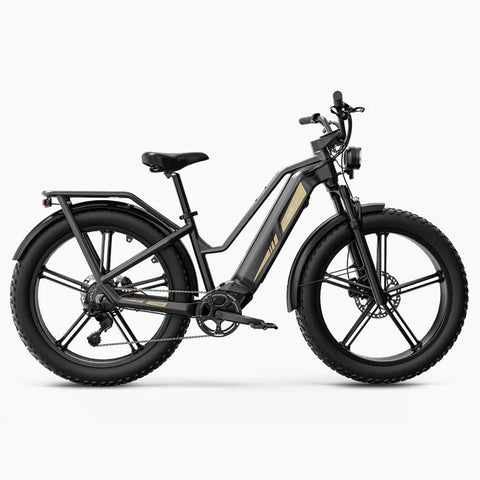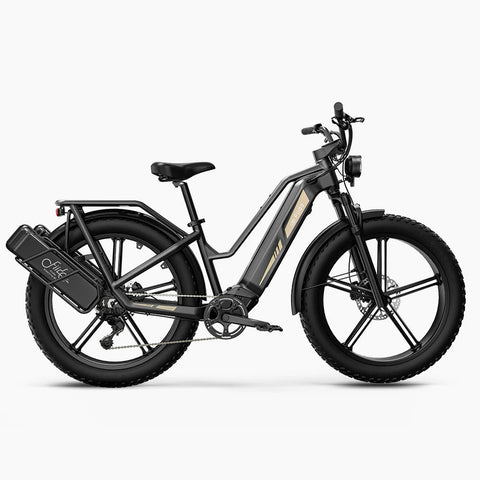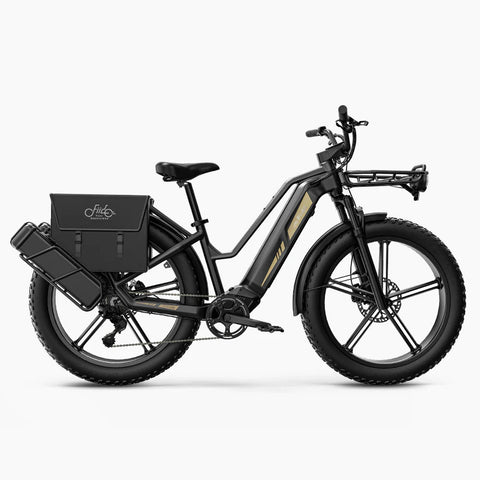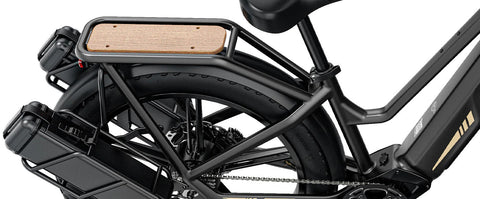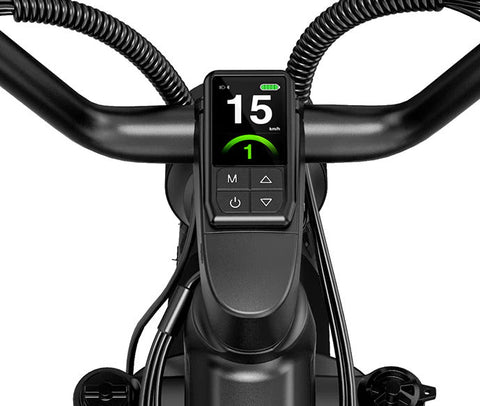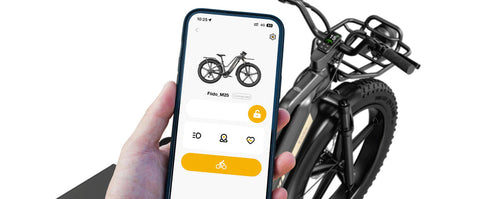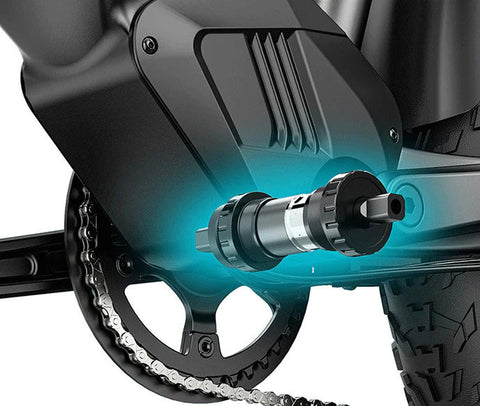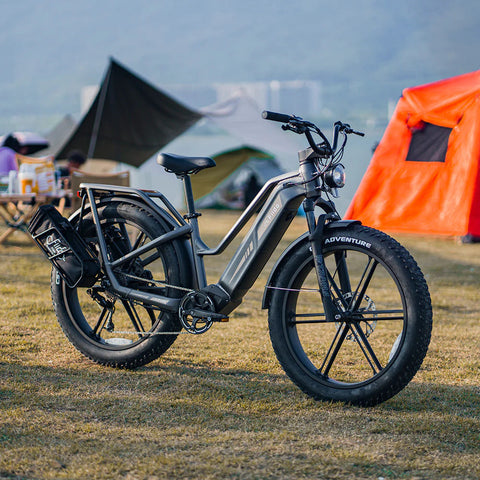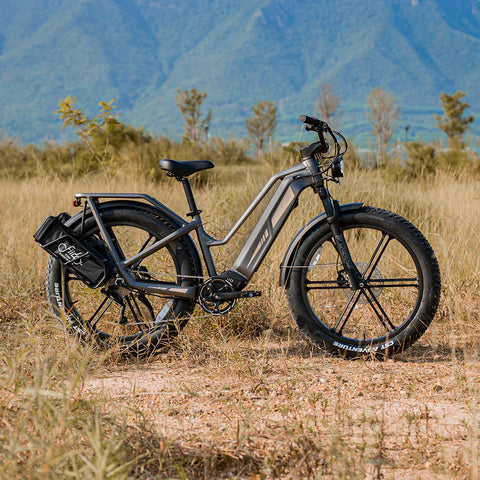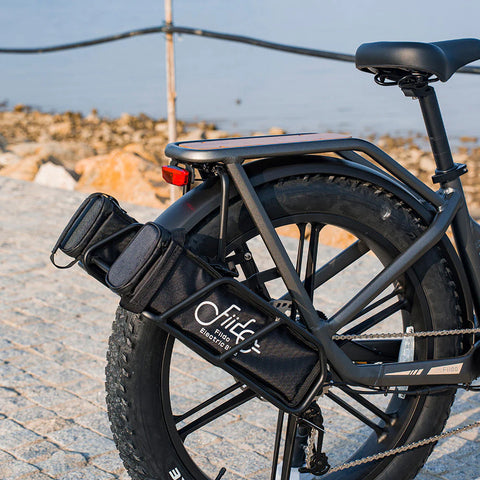 Fiido Titan Robust Cargo Electric Bike With Torque Sensor and UL Certified
FREE shipping to UK 🇬🇧
Save between 22% and 42% when purchasing with a cycle scheme. Learn more here.
If you're looking for a fat-tyre ebike that offers a safe, reliable and versatile ride, the Fiido Titan Robust Cargo Electric Bike might be just it. Its 26-inch fat tyres can easily handle any terrain with confidence. The ebike comes equipped with 4-piston hydraulic brakes that provide an ample stopping power, even when fully loaded.
The Fiido Titan Robust Cargo Electric Bike has a double battery rack (sold separately) that can help you carry two extra battery for a maximum range of 400km (284 miles). The battery can also be locked and unlocked via the app, without need to worry for physical keys.
It's an ebike that can easily acommodate a reange of heights, from 5 ft to up to 6.9 ft comfortably.
*This eBike has a motor output exceeding 250w and speed assistance exceeding 15.5mph. This eBike cannot be used on UK public roads **See below for more info.
Specification
• Colour: Grey
• Size (long*wide*tall) in mm: 1850*710*1070
• Tyre size (inch): 26*4.0
• Saddle Height (mm): 810~1040
• Seat tube (mm): 420
• Top Tube Length: 627.5
• Stack (mm): 658
• Reach (mm): 420
• Head tube (mm): 135
• Wheelbase (mm): 1150.3
• Standover Height (mm): 717
• Weight (kg): 37.8
• Max payload (kg): 200
• Rider's age: 16+
• Rider's height: 155cm(5.0') - 210cm(6.9')
• Frame Meterial: Aluminum
• Front Shock: Hydraulic with 60mm travel
• Mode: Power Assist+Throttle+Paddle
• Motor: Rear hub 750W Toothed Brushless
• PAS Levels: 5
• Preset Max Speed: 15.5MPH (25km/h)
• Max Speed after unlocked: 28MPH (45km/h)
• Single Battery Range: 135km
• Trible Battery Range: 400km
• Drive Ratio: 42T: 11-36T
• Operating Temp: -10°C ~50°C
• IP Rating (whole bike): IP54
• IP Rating (display): IP67
• Lights: Front and Rear LED
• Certificate: UL2849

Discliamer: the legality of the all the products is subject to local regulations. Please do your due diligence regarding local regulations.

*Fiido has the right without notice to the consumer to substitute components of at least equal quality for advertised Fiido ebike components in the event of the unavailability of such advertised components.
Shipping & Warranty
Shipping:

UK: Standard Tracked UK Delivery (7-10 working days)
EU*: Standard Tracked EU Delivery (7-10 working days)
US*: Standard Tracked US Delivery (7-10 working days)

Manufacturer's Warranty:

Fiido offers a warranty of 3 to 36 months for manufacturing defects, depending on the part affected. Please review the manufacturer's webpage for detailed information.

*Delivery to the EU or US is free of charge and will not incur any customs duties or fees.
Why buy from Electroheads?
• We have free UK shipping on most products in our range.
• We are rated "Great" by our customers on TrustPilot.
• We offer 30 day free returns as standard (see our returns policy here).
• We offer at LEAST a 1-year warranty on ALL products.
• Our customer service is dealt with by real people in the UK, and we're always happy to hear from you.
• We're not just a website. You can visit us at our London Showroom where we have full-time mechanics and customer care.
Don't just take our word for it!
Customer reviews:
Andrew Sands
Estarli e20 - Verified Buyer
Electroheads' social media reviews are not only accurate, they are very helpful & enjoyable to watch. This led me to making a purchase via their website, the service I received was excellent and the item arrived on time. I would thoroughly recommend Electroheads.

★★★★★

Daniel Hogarth
Jeep Camou - verified buyer
The jeep camou 2xe has been a game changer. I love riding it. The scooter is fantastic, and the service from Electroheads was great, and the product arrived promptly.

★★★★★

Aris Donahue
Estarli e28 - Verified Buyer
I took a look at the tenways, but I ended up going for a Estarli e28 pro - pretty simliar price and specs.

★★★★★