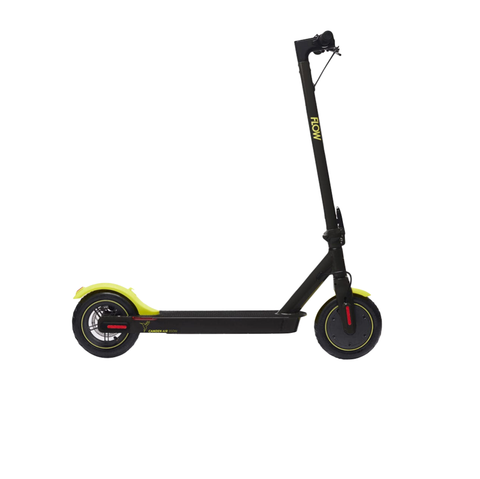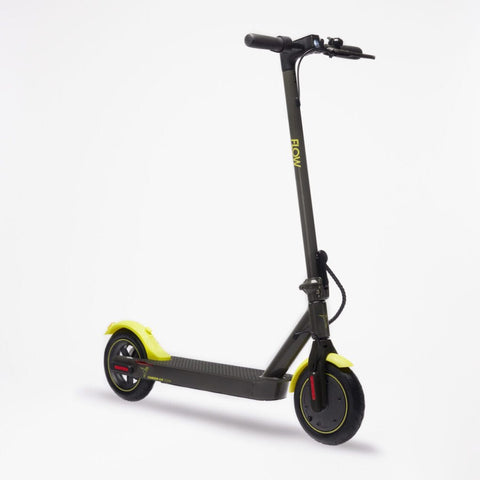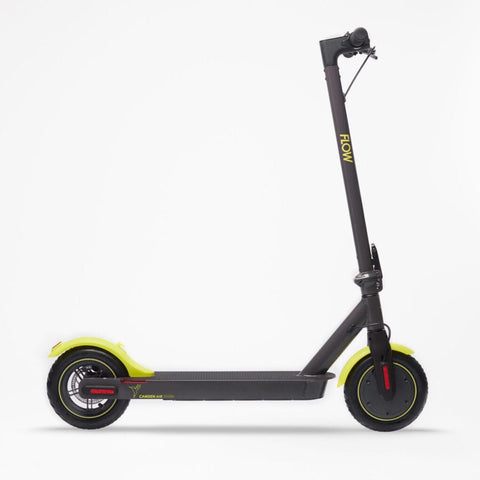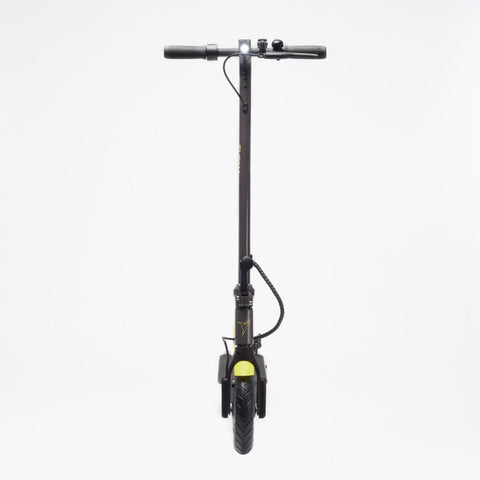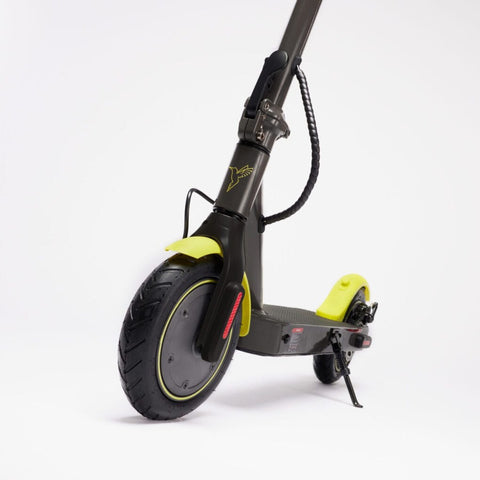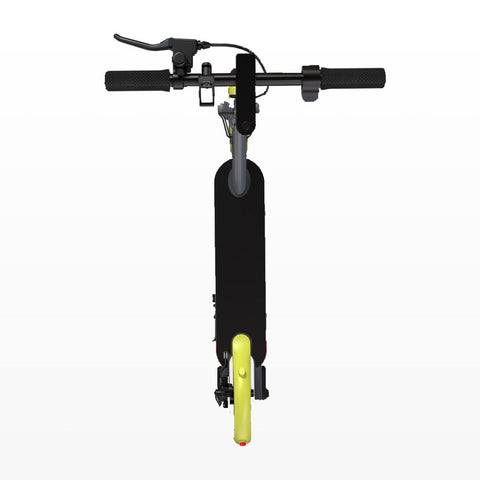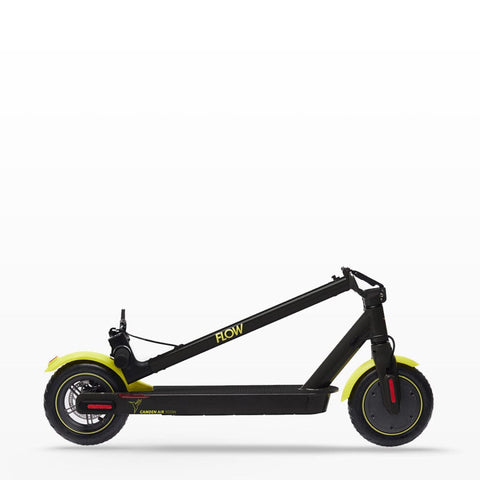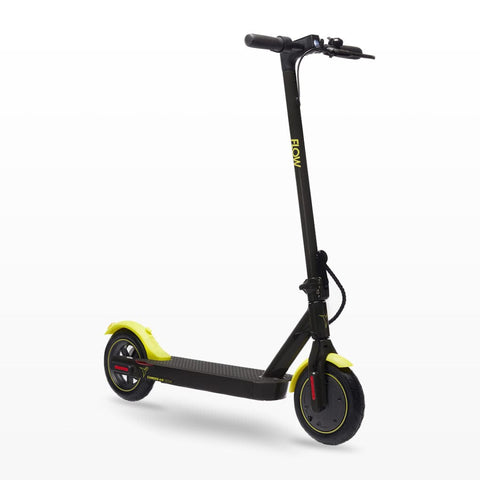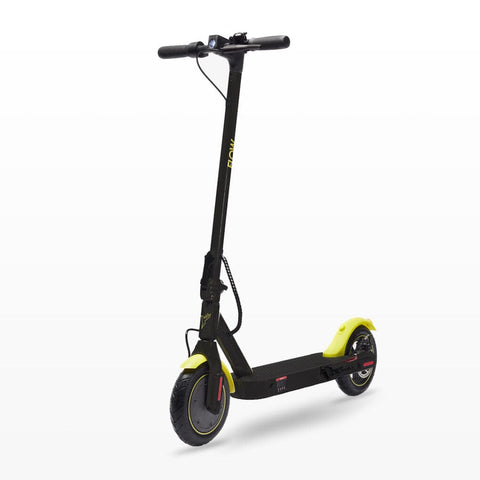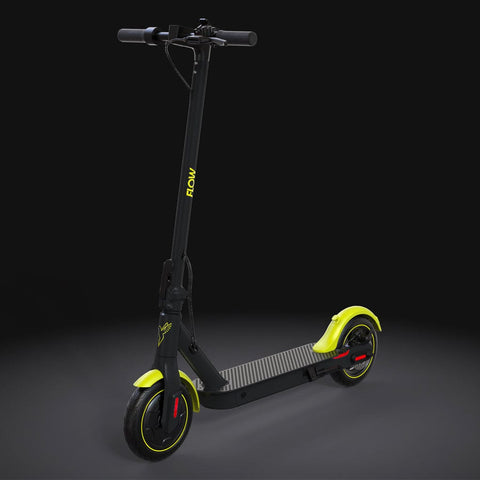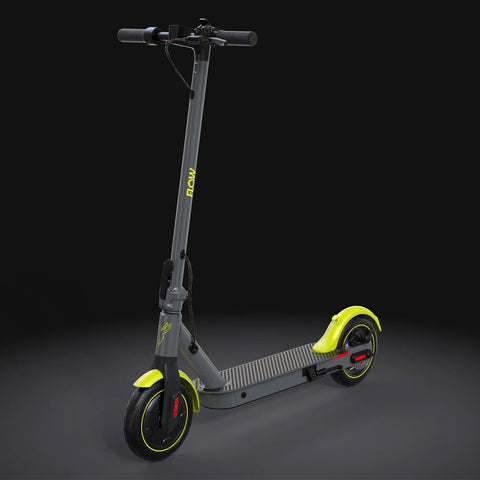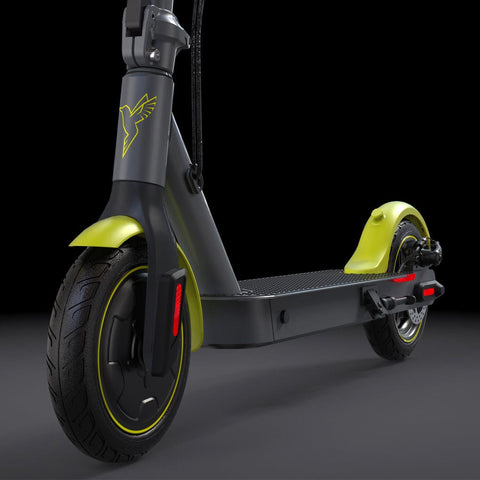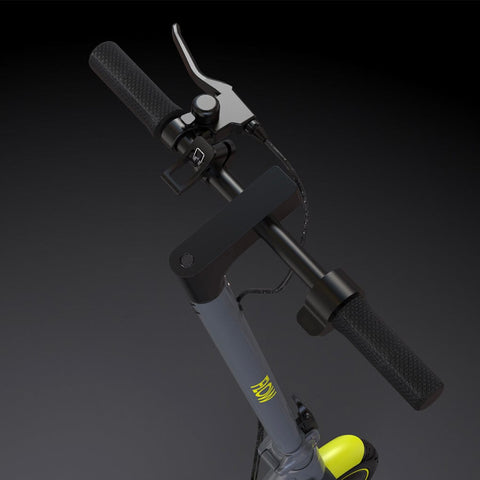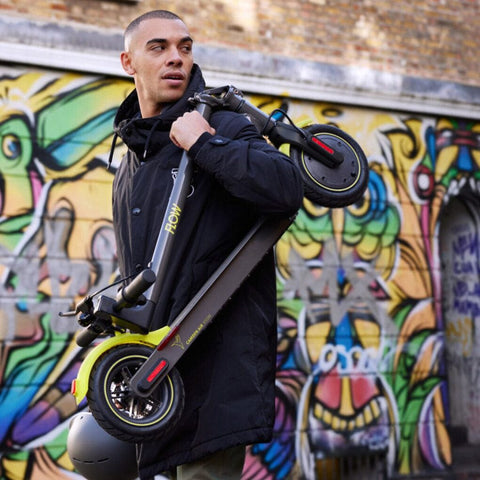 Flow Camden Air Electric Scooter
FREE shipping in the UK 🇬🇧
Usage of e-scooters is not legal on public roads, sidewalks or footpaths in the UK 🇬🇧 For more information, please click here.
The Flow Camden Air is an entry level electric scooter that matches its competitors for spec but beats most of them on price.
Flow are a UK-based company and named their scooter after the vibrant Camden area of London.
In our testing, this scooter stood up against models such as the Riley RS1, E-Dash LE1, Pure Air and Xiaomi Mi.
The only real compromise with the Flow Camden Air is on range, with a real-world range of around 12 miles before needing to be recharged. Though this is still plenty for most people.
The Flow Camden Air is a powerful yet lightweight e-scooter at only 12kg, with a 350W motor and peak output of 540W.
A combination of mechanical braking on the rear and an e-brake on the front product a quick-stopping power.

Front and rear lights are also included, that flash when the brakes are pulled. The Camden also folds in half for easy storage and carrying. 
The Flow Electric Scooter App also enables you to easily check the status and change scooter settings from your phone.
Switch units from km to miles, turn cruise control on/off, switch between riding modes, turn lights on/off, turn lock on/off, monitor battery level and more.
Electroheads Verdict
The Flow Camden Air is a scooter that balances performance with portability. With a maximum power output of 540w and a weight of 12kg, this is a powerful scooter that gets up to top speed quickly, particularly in sport mode (the fastest of the scooter's three speed modes).

Electroheads are happy to see that with this power, Flow have not forgotten the importance of strong mechanical brakes. This inspires confidence in riders of all ability to stop quickly when needed.

The Camden Air also incorporates lights front and rear to keep you seen, with software that flashes the rear light under braking; these extra steps that Flow have taken make this an exceptional scooter for the price.

-Josh Lyons, Electroheads Scooter Reviewer
Specification
Specification

∙Speed: Up To 25km/h (15.5 mph)
∙Speed modes: Three - Eco, Drive and Sport
∙Range: Up To 18km-20km (12.4 miles)
∙LCD Display: Speed, Battery
∙Motor: 350W (540W max power)
∙Tyres: 8.5" Pneumatic
∙Battery: 6Ah
∙Charge Time: 240 mins
∙Easy & Secure Bar Folding / Locking Mechanism
∙Brakes: Disc Brake (Rear) / e-Brake (Front)
∙Fold Down Kick Stand
∙Water Resistance: IP54 (can withstand water splashes)
∙Front LED Lights
∙Brake Light
∙Rear Side Lights
∙Bell On Handle Bar
∙Maximum Load: 120kg
∙Dimensions:
Folded: 1080 x 440 x 500mm (L x W x H)
Unfolded: 1080 x 440 x 1100mm (L x W x H)
∙Product Weight: 12kg
∙Extras: Free app to track your scooter

Shipping & Warranty
We offer free 3-5 shipping to addresses in the UK.

We offer a 12 Month Uk Warranty for the original owner.

The warranty covers the following:
Manufacturing defects of the Main body, Handlebar, Deck, Forks and Charger
Manufacturing defects of the Control Panel and Motor
Manufacturing defects of the Battery


Not covered by the Warranty:
Handlebar Grips, Tyres, Inner-tubes, Deck Grip, Brakes, Brake Pads, Brake Levers, Bells, Bearings, Latches, Hooks, Buttons, Wheels, Kick-Stands, Suspension, Springs, Plastic Coverings, Cables, Removable Caps, Seals, Screws, Bolts, Paint, Cosmetic Damage and General Wear and Tear.

The warranty will also not be covered if the product or part requested to be repaired or maintained shows signs of mistreatment, neglect, abuse or misuse. There has been improper or inadequate maintenance or storage. The product has been modified. There has been improper assembly, operator error or water damage. The scooter has been used for extreme riding, tricks or stunts. Charger/s or component/s not supplied with the product have been used. There are signs of crash damage. There are signs of reckless or intentional damage. The scooter is used for business, hire or commercial use. Claims outside the UK.

This warranty does not cover damage, faults or defects resulting from a failure to follow the instructions in the user manual.

30 day free returns are available if the product has not been unboxed.
Free Test Rides!
We offer free test rides of all our products at our London Bridge showroom, on Weston Street. Our team of experts will be on hand to answer all your questions.
We look forward to seeing you!
Why buy from Electroheads?
• We have free UK shipping on most products in our range.
• We are rated "Great" by our customers on TrustPilot.
• We offer 30 day free returns as standard (see our returns policy here).
• We offer at LEAST a 1-year warranty on ALL products.
• Our customer service is dealt with by real people in the UK, and we're always happy to hear from you.
• We're not just a website. You can visit us at our London Showroom where we have full-time mechanics and customer care.
Don't just take our word for it!
Customer reviews:

Daniel Hogarth
Jeep Camou - verified buyer
The jeep camou 2xe has been a game changer. I love riding it. The scooter is fantastic, and the service from Electroheads was great, and the product arrived promptly.

★★★★★

Aris Donahue
Estarli e28 - Verified Buyer
I took a look at the tenways, but I ended up going for a Estarli e28 pro - pretty simliar price and specs.

★★★★★
Andrew Fellas
Estarli e20 - Verified Buyer
Electroheads' social media reviews are not only accurate, they are very helpful & enjoyable to watch. This led me to making a purchase via their website, the service I received was excellent and the item arrived on time. I would thoroughly recommend Electroheads.

★★★★★