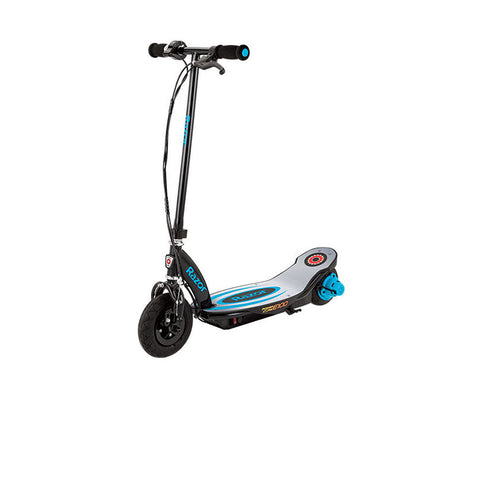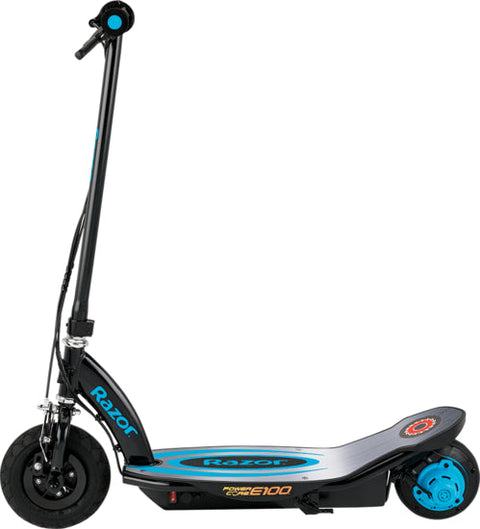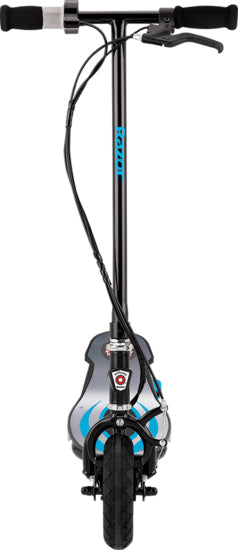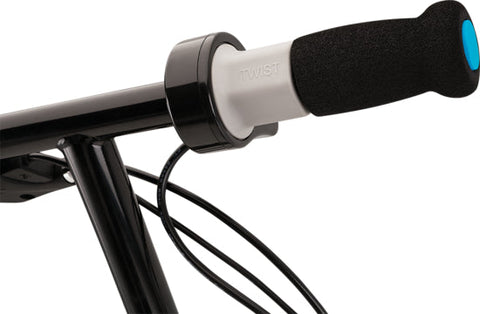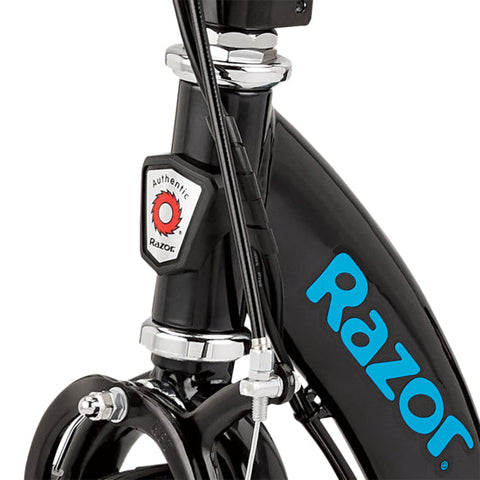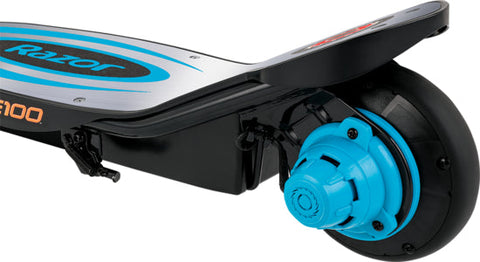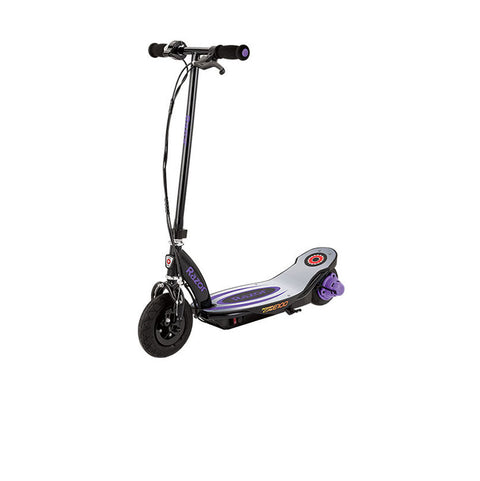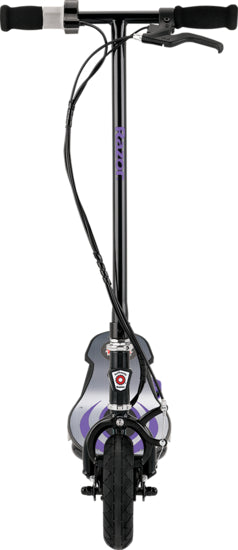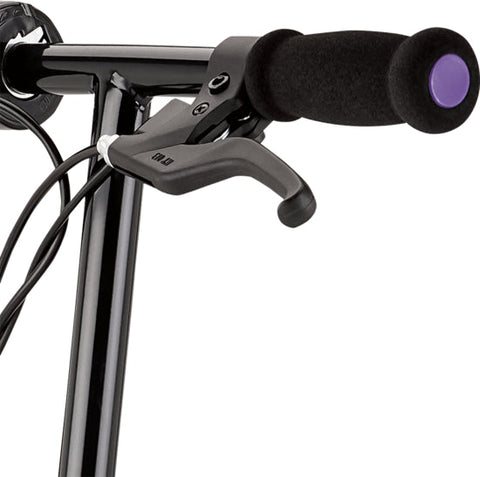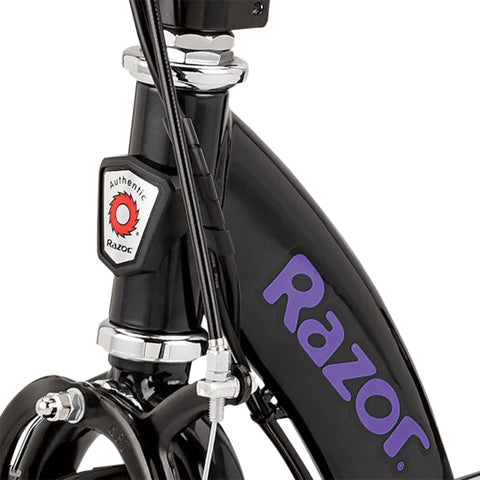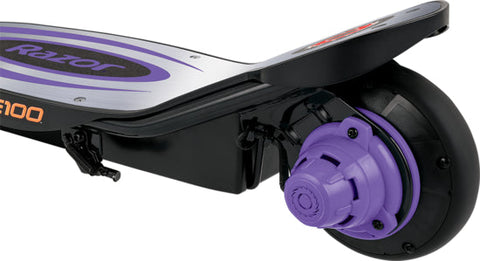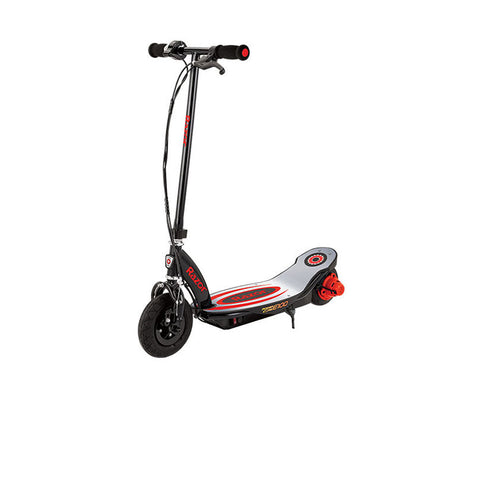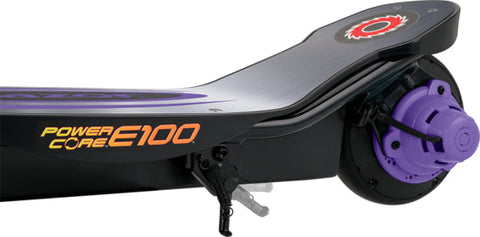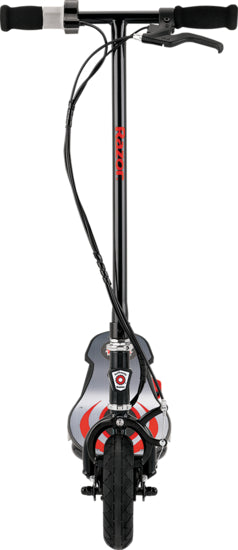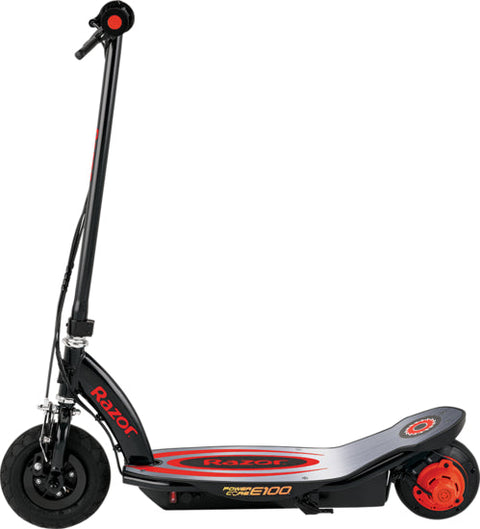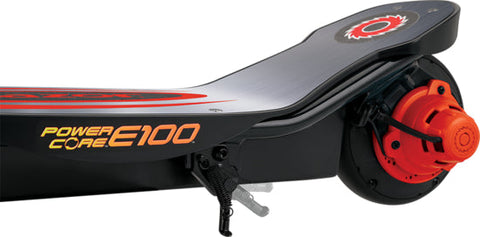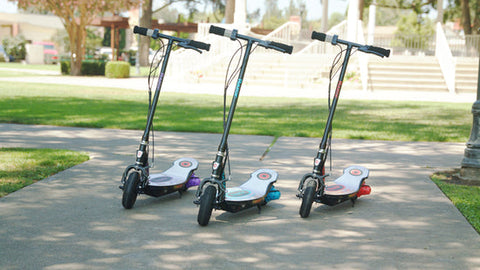 Razor Power Core E100 Electric Scooter
FREE shipping to UK 🇬🇧
Usage of e-scooters is not legal on public roads, sidewalks or footpaths in the UK 🇬🇧 For more information, please click here.
The Razor Power Core E100 Electric Scooter is perfect for a longer ride, with up to
60 minutes of continuous use. It comes equipped with a 24V sealed lead acid battery system and a 100W high torque motor that propel this escooter up to 11 mph.
Specification
Power and performance
• Power Core™ Technology and design.
• Increased ride time, up to 60 minutes of continuous use
• Maintenance free (no alignment, no chain, no chain tensioner)
• Speeds up to 11 mph (18 km/h)

Build
• Max: 54 kg
• Age: 8+
• Colours: Blue, Purple, Red
• Product Weight: 12 kg
• Assembled Product Dimensions: 85,73 cm x 40,6 cm x 88,9 cm
• 24V (two 12V) sealed lead acid, rechargeable battery
• Battery charger included
• U.S. and International patents pending
• Some assembly required
• All steel frame and fork
• Kick start, high-torque hub motor
• Twist-grip acceleration control
• Hand-operated front caliper brake
• Pneumatic front wheel tyre
• Rear flat fee rubber tyre for a smoother ride and increased traction
• Spring-loaded kickstand included

Product decoration and specifications subject to change without notice

Note: Vehicle not to be used on public highways (roads/pavements), vehicle must be used on private property with owner's consent, appropriate protective equipment to be worn at all times, children must be supervised by an adult at all times. This product is not intended for use as a mobility vehicle.
Shipping & Warranty
Shipping:

UK: Standard Tracked UK Delivery (3-7 working days)
EU*: Standard Tracked EU Delivery (3-5 working days)
US*: Standard Tracked US Delivery (3-5 working days)

Manufacturer's Warranty:

Razor offers a limited 90-days warranty against all manufacturing defects. This Limited Warranty does not cover normal wear and tear, wheel, or any damage, failure or loss caused by improper assembly, maintenance, storage or mis-use. Extended warranties may be purchased separately.

*Delivery to the EU or US is free of charge and will not incur any customs duties or fees.