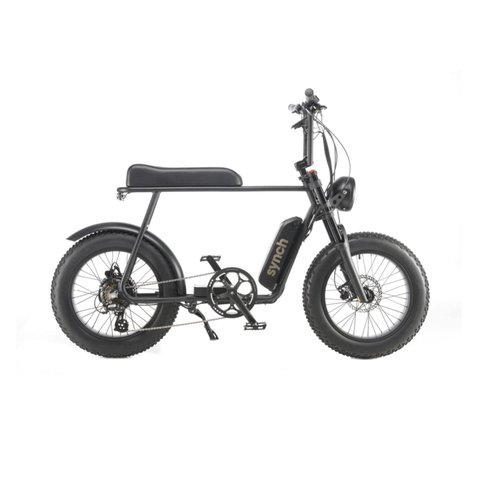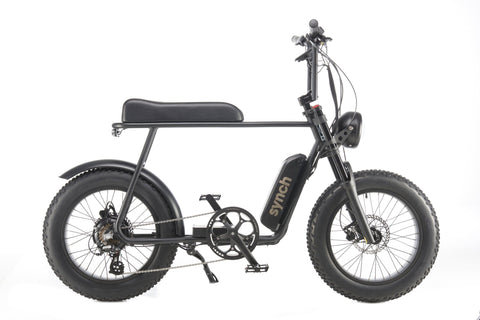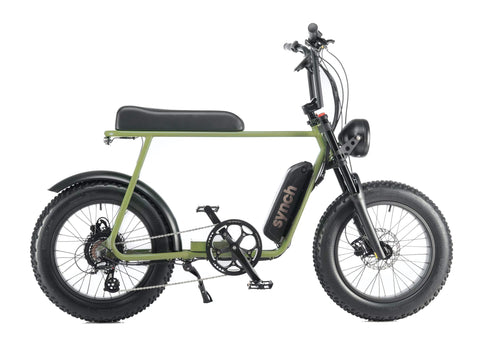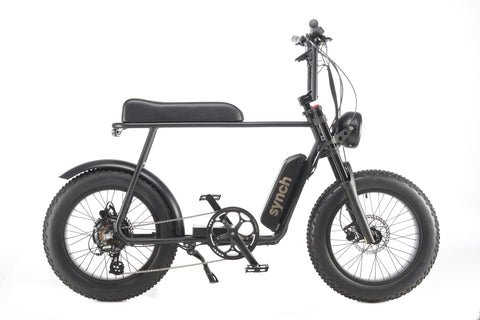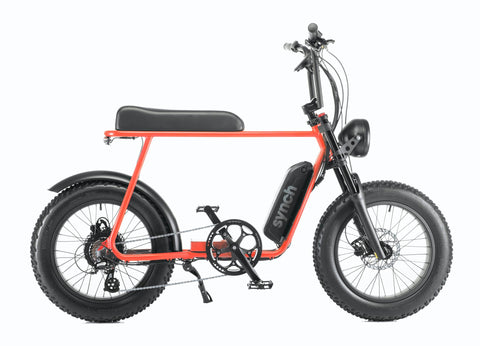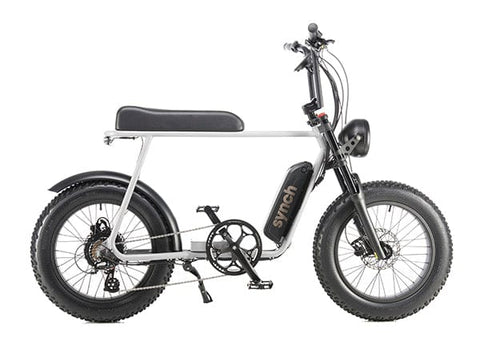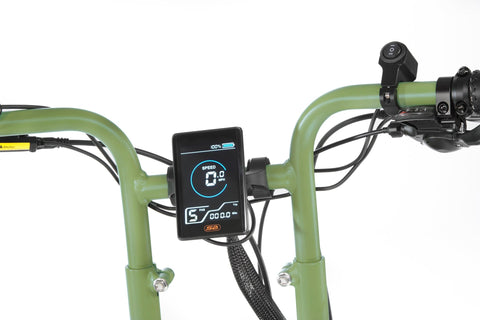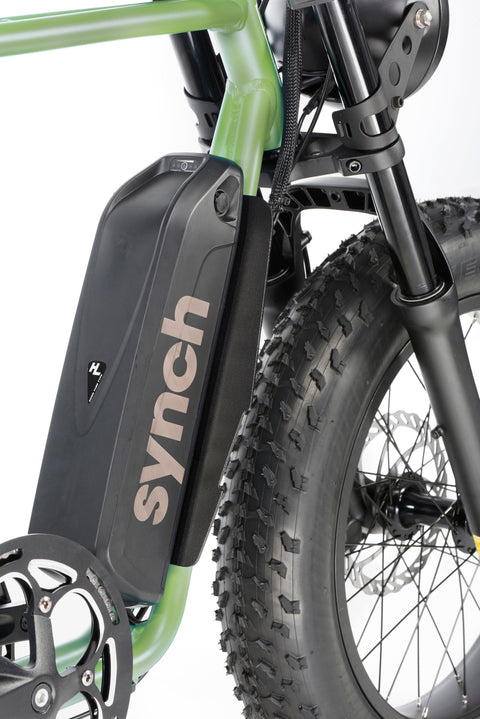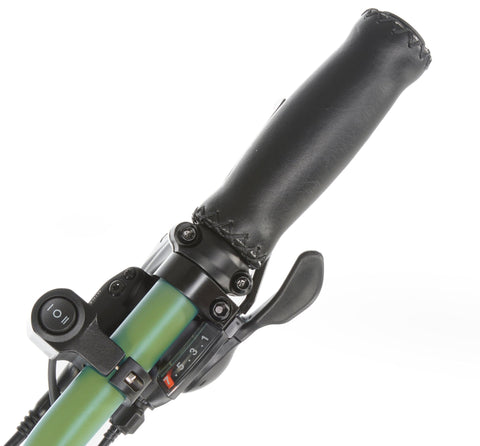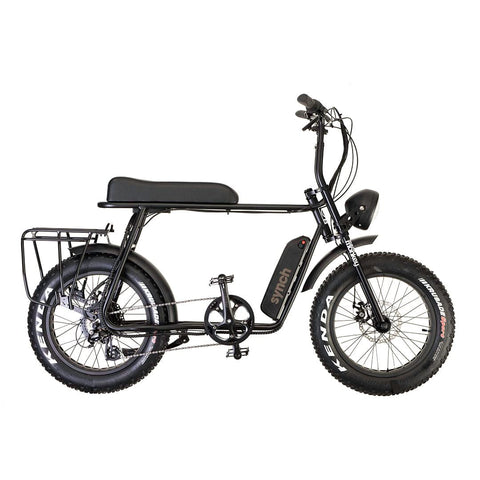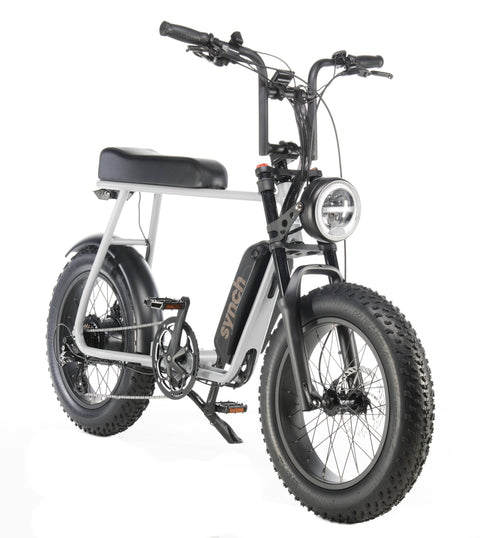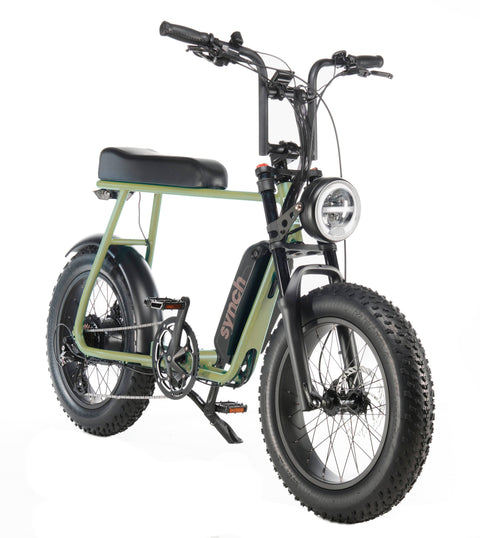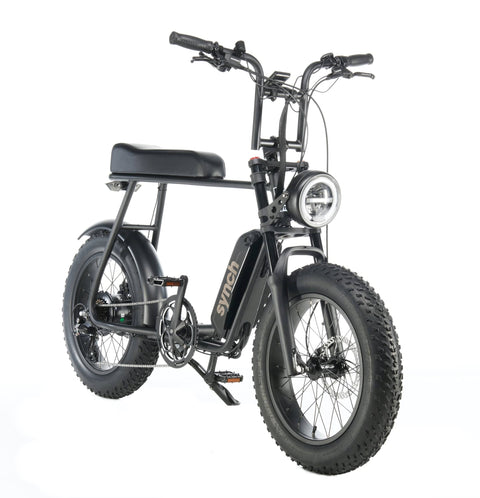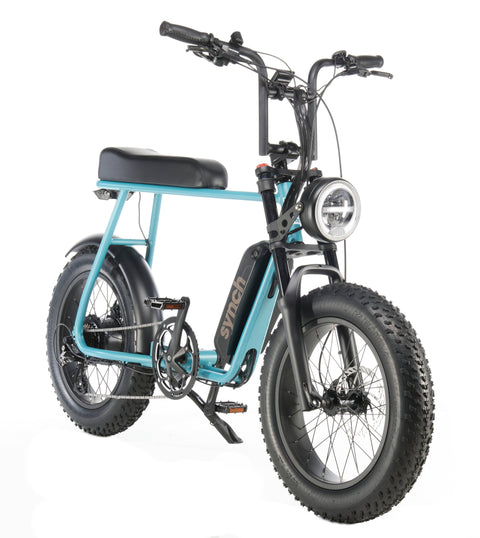 Synch Super Monkey Fat-Tyre Electric Bike (750W)
FREE shipping to UK 🇬🇧
Save between 22% and 42% when purchasing with a cycle scheme. Learn more here.
Synch is a British company that makes ebikes with a unique, retro, street look – and unmistakeable fat tyres. As well as this Super Monkey model, there's a two-seater Longtail and a Mini version. With the Super Monkey, you can opt for either the 250W or the more powerful 750W* version.
The Synch Super Monkey brings iconic retro styling into the 21st century as an ebike - minimal, yet purposeful.

*This eBike can be purchased with a 750W motor that can exceed the legal speed assistance level of 15.5mph. eBikes with a 750W motor cannot be used on UK public roads. See "Shipping and Warranty" section below for more information. 
Check out our full review video of the Synch Super Monkey below:
Specification
POWER AND PERFORMANCE
• Max speed: 23-25 mph (750W)
• Max distance: 25 - 35 miles
• Motor power: 750W
• Speed modes: 5
• Cruise control: N/A
• Charging time: 4-5 hours
• Battery type / capacity: 36V / 15AH
• Removable battery: Yes
• Sensor: Cadence

BUILD
• Water resistance: IP65
• Suspension: Front forks
• Wheel type: Fat- tyre
• Wheel size: 20"
• Weight: 25kg
• Maximum load: 125kg
• Recommended age: 14+
• Gears: Shimano 7-speed
• Brakes: Tektro E350 Hydraulic brakes
• Display: UKS2 Colour
Shipping & Warranty
Synch offers 12-month warranty on battery and motor, with 24 months on forks and frame.

All products are built to order and are typically dispatched in 1 to 2 weeks. Products are delivered fully assembled and ready-to-go by trained operatives from a specialist delivery company.

*Legal disclaimer for 750W models:
In the UK, only eBikes that comply with EAPC Regulations can be used on UK public roads without tax, insurance or registration. You can find out more about EAPC Regulations here: https://www.gov.uk/electric-bike-rules.
If you purchase this eBike, it can only be used off-road on private land unless you obtain type approval, insurance, tax, display a number plate and an MOT. For the avoidance of doubt, you will be responsible for obtaining such type approval, insurance, tax, registration and MOT. If you are purchasing an eBike from outside of the UK, you are responsible for checking and complying with the applicable laws and regulations relating to eBike use in your jurisdiction and where you intend to use the eBike.
Why buy from Electroheads?
• We have free UK shipping on most products in our range.
• We are rated "Great" by our customers on TrustPilot.
• We offer 30 day free returns as standard (see our returns policy here).
• We offer at LEAST a 1-year warranty on ALL products.
• Our customer service is dealt with by real people in the UK, and we're always happy to hear from you.
• We're not just a website. You can visit us at our London Showroom where we have full-time mechanics and customer care.
Don't just take our word for it!
Customer reviews:
Andrew Sands
Estarli e20 - Verified Buyer
Electroheads' social media reviews are not only accurate, they are very helpful & enjoyable to watch. This led me to making a purchase via their website, the service I received was excellent and the item arrived on time. I would thoroughly recommend Electroheads.

★★★★★

Daniel Hogarth
Jeep Camou - verified buyer
The jeep camou 2xe has been a game changer. I love riding it. The scooter is fantastic, and the service from Electroheads was great, and the product arrived promptly.

★★★★★

Aris Donahue
Estarli e28 - Verified Buyer
I took a look at the tenways, but I ended up going for a Estarli e28 pro - pretty simliar price and specs.

★★★★★