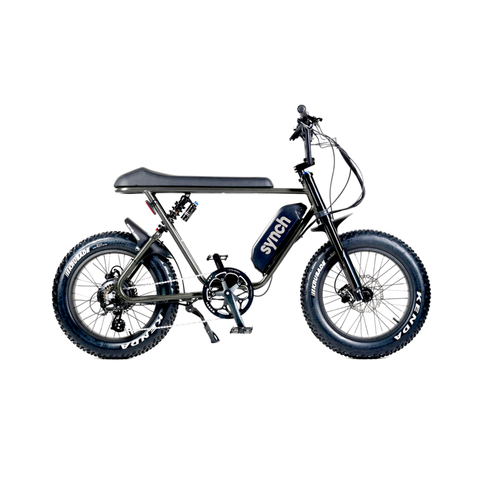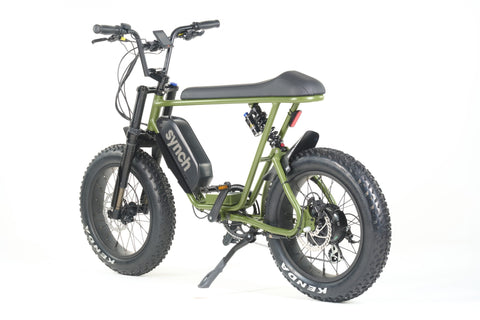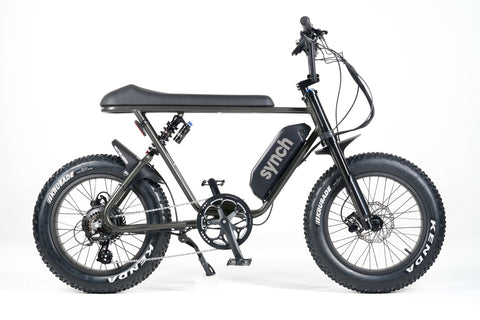 Synch Ultra Monkey Electric Bike (750W)
Free UK shipping 🇬🇧
This is the British-built Synch Ultra Monkey, housing a 750w motor and 48v battery. With both front and rear suspension, it makes for a great off-roading bike. The Ultra Monkey also features a Shimano 7-Speed, Tektro brakes and a range of 40 miles with lights and mudguards included. So if you want a fat tyred cruising bike, that's just as good off-road as on it, the Ultra is for you.
*This eBike has a motor output exceeding 250w and speed assistance exceeding 15.5mph. This eBike cannot be used on UK public roads. See "Shipping and Warranty" section below for more information. 
Specification
Specification:
•Frame: 6061 Aluminium
•Motor: 750w
•Battery: 48v
•Suspension: Front forks and rear shock
•Gears: Shimano 7 speed
•Brakes: Tektro hydraulic
•Tyres: 20″ x 4″ (various tread patterns available)
•Range: Up to 40 miles
•Charge time: 5 hours
•Accessories: Lights, Mudguards
•Rider height: 5'4″ – 6'3″
•Load capacity: 120kg
•Weight: 30kg

Shipping & Warranty
Synch offers 12-month warranty on battery and motor, with 24 months on forks and frame.

All products are built to order and are typically dispatched in 1 to 2 weeks. Products are delivered fully assembled and ready-to-go by trained operatives from a specialist delivery company.

*Legal disclaimer for 750W models:
In the UK, only eBikes that comply with EAPC Regulations can be used on UK public roads without tax, insurance or registration. You can find out more about EAPC Regulations here: https://www.gov.uk/electric-bike-rules.
If you purchase this eBike, it can only be used off-road on private land unless you obtain type approval, insurance, tax, display a number plate and an MOT. For the avoidance of doubt, you will be responsible for obtaining such type approval, insurance, tax, registration and MOT. If you are purchasing an eBike from outside of the UK, you are responsible for checking and complying with the applicable laws and regulations relating to eBike use in your jurisdiction and where you intend to use the eBike.

Join our growing base of happy customers:

Andrew Fellas
Estarli e20 - Verified Buyer
Electroheads' social media reviews are not only accurate, they are very helpful & enjoyable to watch. This led me to making a purchase via their website, the service I received was excellent and the item arrived on time. I would thoroughly recommend Electroheads.

★★★★★

Aris Donahue
Estarli e28 - Verified Buyer
I took a look at the tenways, but I ended up going for a Estarli e28 pro - pretty simliar price and specs.

★★★★★

Daniel Hogarth
Jeep Camou - verified buyer
The jeep camou 2xe has been a game changer. I love riding it, and I'm saving money on fuel. The scooter is fantastic, and the service from Electroheads was great, and the product arrived promptly.