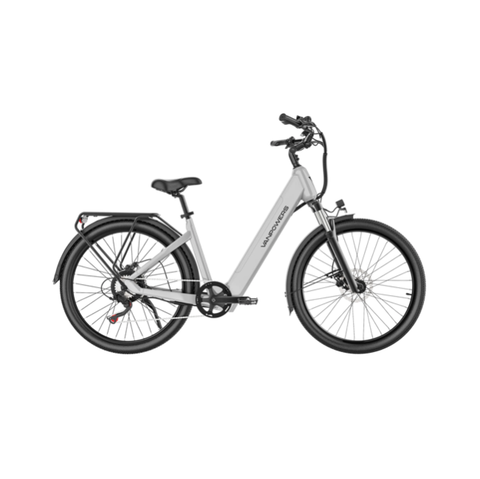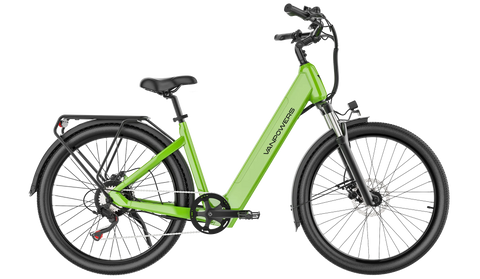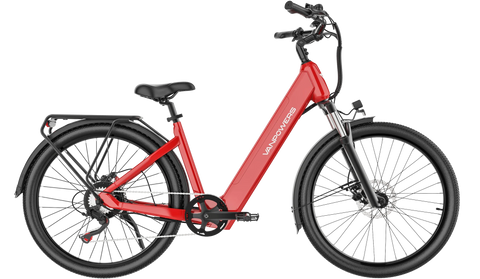 Vanpowers UrbanGlide Standard Electric Bike
FREE shipping to: EU 🇪🇺 | US 🇺🇸
Introducing the Vanpowers UrbanGlide Electric Bike, your gateway to thrilling rides! With a potent LG 690WH battery and a 500W* hub motor, this e-bike delivers speeds up to 20 mph and a remarkable 60-mile range. Designed for riders from 160cm to 210cm in height and boasting a hefty 125 kg max load capacity, it's both versatile and robust. You'll conquer various terrains effortlessly with 7-speed Shimano gears, 80mm suspension, and reliable Kenda 2.2" hybrid tires. Stay connected with the smart app interface, carry your essentials on the 15kg load-capable rear rack, and ride worry-free with included mudguards. Elevate your biking adventures with the UrbanGlide!
This e-bike's output exceeds the legal limit in the EU at this time. Usage of this product should be on private land and not on public roads and footpaths. 
Electroheads Verdict
The Vanpowers UrbanGlide Electric Bike is a true standout in the world of e-bikes. With its impressive LG 690WH battery, powerful 500W hub motor, and exceptional 60-mile electric power range, it's a thrilling ride waiting to happen. We're impressed by its versatile design, accommodating riders of various heights and boasting a robust 125 kg max load capacity. Plus, the thoughtful additions like 7-speed Shimano gears, 80mm suspension, and Kenda 2.2" hybrid tires make it a breeze to handle on any terrain. The smart app interface, practical rear rack, and included mudguards add icing to the cake. The UrbanGlide gets a big thumbs-up from Electroheads for its all-around excellence! 🚴‍♂️👍





Specification
POWER & PERFORMANCE
• Battery: LG, 690WH
• Hub motor: 500W
• Max speed: 20 mph
• Electric power range: 60 miles
• Max load: 125 kg
• Sensor: Speed Sensor
• Suspension: Yes, 80mm of travel

BUILD
• Net Weight: 31kg
• Rider height: 160cm-210cm
• Wheel size: 27.5"
• Tyres: Kenda 2.2" (hybrid)
• Front and rear brakes: Mechanical 180mm Disc Brakes
• Gears: Yes, 7 speed Shimano

FEATURES
• Smart app interface
• Rear rack (15kg load capacity)
• Mudguards
Shipping & Warranty
Shipping:

EU*: Standard Tracked EU Delivery (3-5 working days)
US*: Standard Tracked US Delivery (3 - 5 working days)

Manufacturer's Warranty:

Vanpowers offers a comprehensive warranty on their products. For more information, please visit this link: https://www.vanpowers.com/en-gb/pages/warranty

*Delivery to the EU or US is free of charge and will not incur any customs duties or fees.
Why buy from Electroheads?
• We have free UK shipping on most products in our range.
• We are rated "Great" by our customers on TrustPilot.
• We offer 30 day free returns as standard (see our returns policy here).
• We offer at LEAST a 1-year warranty on ALL products.
• Our customer service is dealt with by real people in the UK, and we're always happy to hear from you.
• We're not just a website. You can visit us at our London Showroom where we have full-time mechanics and customer care.
Don't just take our word for it!
Customer reviews:

Aris Donahue
Estarli e28 - Verified Buyer
I took a look at the tenways, but I ended up going for a Estarli e28 pro - pretty simliar price and specs.

★★★★★

Daniel Hogarth
Jeep Camou - verified buyer
The jeep camou 2xe has been a game changer. I love riding it. The scooter is fantastic, and the service from Electroheads was great, and the product arrived promptly.

★★★★★
Andrew Fellas
Estarli e20 - Verified Buyer
Electroheads' social media reviews are not only accurate, they are very helpful & enjoyable to watch. This led me to making a purchase via their website, the service I received was excellent and the item arrived on time. I would thoroughly recommend Electroheads.

★★★★★