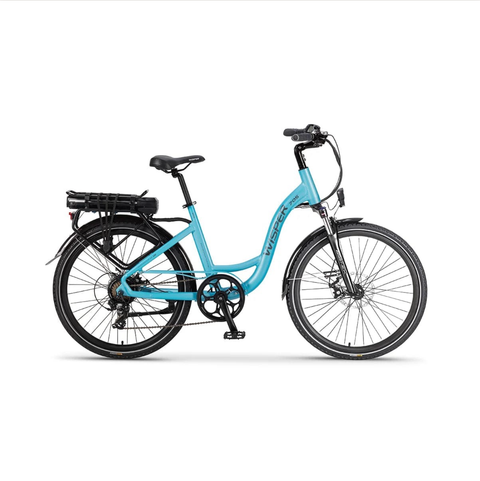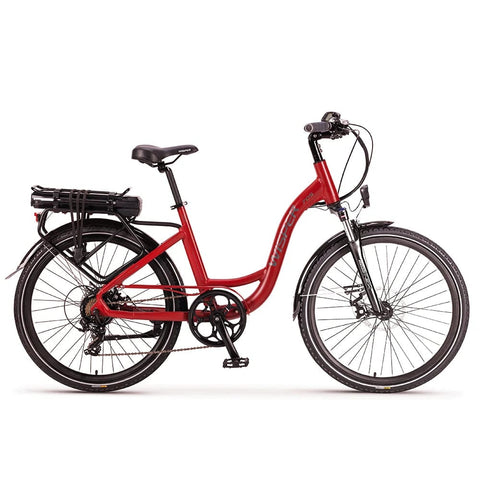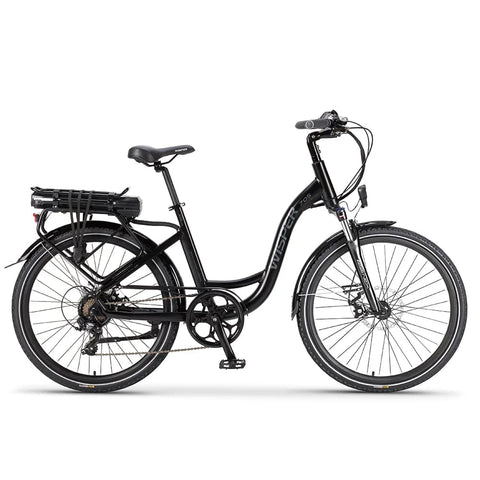 Wisper Traditional 705 26" Step-Through
Free UK shipping 🇬🇧
The Wisper 705 26" Step-through comes in 3 different colours with three battery sizes to choose from. Giving you a range of either 50, 75 or 100 miles. With 26" wheels, it is better for those of you that are taller for more ground clearance. 
The bike has front suspension, high-quality hydraulic disk brakes and puncture resistant 26" Kenda tyres. Front, rear lights and mudguards are included. 
Specification
Technical Specification

Motor
•Wisper High efficiency, 250W hi torque brushless motor
Lithium Battery
•Medium range 375Wh MAX range 50 miles
•Long range 575Wh MAX range 75 miles
•Mega range 700W MAX range 100 miles
*By upgrading to our high efficiency Torque Power Pack
range may be extended by up to 30%

Full Throttle Range
•Using your Wisper bike on the throttle only will reduce your range by up to 35% and the TTP will not help increase range whilst you are using the throttle only. If your bike has been upgraded so it works on the throttle only, we still suggest pedalling when you are able to do so. Use the throttle only function when you need to rest or to help you pull away when setting off.

Controls
•Wisper Back lit LCD display

Bicycle weight
•375Wh: 23kg
•575Wh: 24kg
•700Wh: 24.5kg

Frame
•Hand welded, 6061 Alloy T4 and T6 tempered

Frame size
•26″ Wheel: 18" 46.5cm
•24″ Wheel 14.5″ 36.5cm

Colour
•Black, Electric Blue or Burgundy

Forks
•Suntour NEC with pre-tension

Saddle
•Wisper comfort

Kick stand
•Black anodised alloy

Gears
•SHIMANO 7 speed derailleur with 7 speed selector

Brakes
•Hydraulic 180mm disc brake front and 160mm rear
Wheels
•Alloy double walled 26" x 1.5"
Tyres
•Kenda 26" 1.95 high puncture resistance with wall reflector
Tyre Upgrade
•Schwalbe Marathon Plus Perf, SmartGuard, TwinSkin
26" x 2" Flat-Less – With a purposeful trekking tread.
Everyday use or off road bicycle expeditions? This robust
tyre handles almost any mistreatment. 5mm thick,
protected by SmartGuard, the most effective puncture
protection belt available.
Mudguards
•Black Full length, shatterproof

Lighting
•Front: 15W LED super bright
•Rear: 36V light, power from bike battery
•Rear Rack Wisper's unique rear battery rack, certified to
25kg
•Max Weight Loading Including Luggage
21 Stone / 135kg
Shipping & Warranty
Warranty:
All Wisper e-bikes that Electroheads sell come with a two-year warranty on electrical and bike parts and 5 years on the frame. See https://wisperbikes.com/extended-warranty/ for more details.

Shipping:
We offer free UK delivery within 3-5 days.

Returns:
Within 28 days of delivery at buyer cost, packed in original packaging.
Join our growing base of happy customers:

Andrew Fellas
Estarli e20 - Verified Buyer
Electroheads' social media reviews are not only accurate, they are very helpful & enjoyable to watch. This led me to making a purchase via their website, the service I received was excellent and the item arrived on time. I would thoroughly recommend Electroheads.

★★★★★

Aris Donahue
Estarli e28 - Verified Buyer
I took a look at the tenways, but I ended up going for a Estarli e28 pro - pretty simliar price and specs.

★★★★★

Daniel Hogarth
Jeep Camou - verified buyer
The jeep camou 2xe has been a game changer. I love riding it, and I'm saving money on fuel. The scooter is fantastic, and the service from Electroheads was great, and the product arrived promptly.