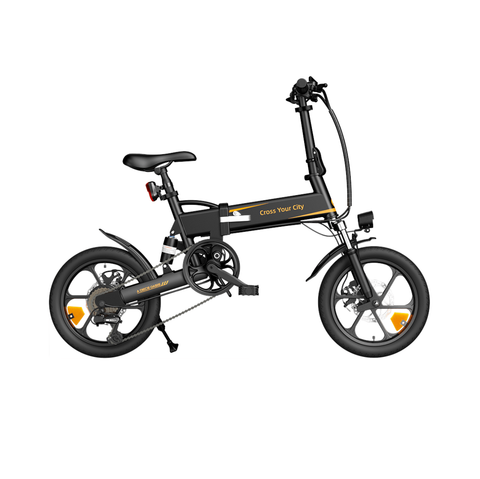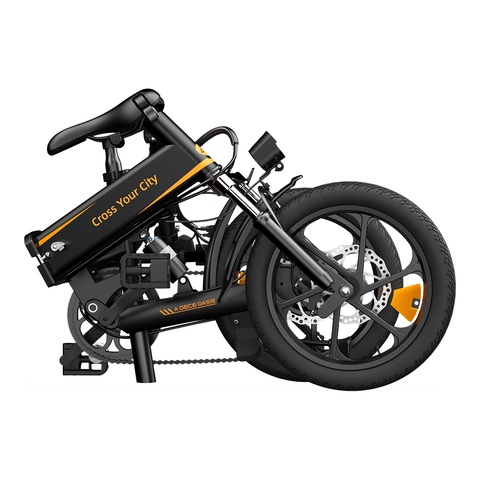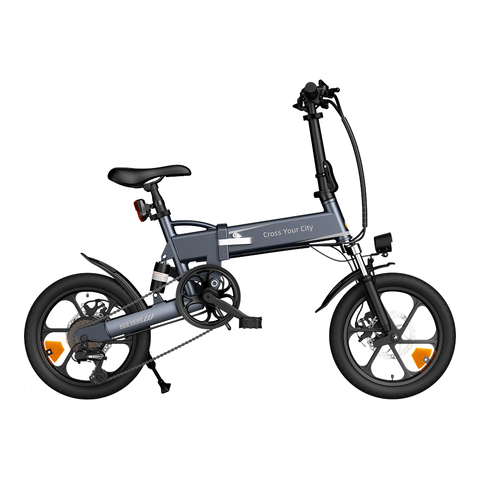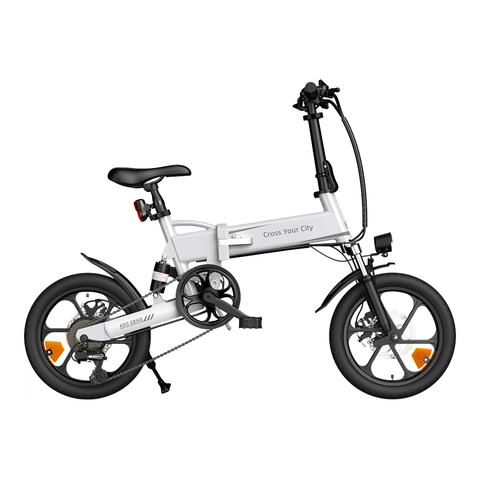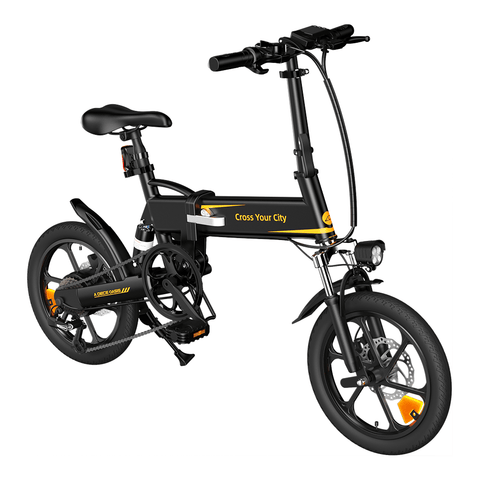 ADO A16+ Electric Bike
FREE shipping to the UK 🇬🇧 and EU 🇪🇺
The ADO A16+ is an ultra compact commuter ebike which folds down to carry in just 10 seconds.
It's one of the most affordable electric bikes on the market today – and is an ideal choice for first time riders, families, commuters, or anyone looking for something practical, portable and easy to use in the city. 
As well as being light and convenient, the A16+  also maintains quality in other areas. The lithium-ion battery is capable of maintaining 80% of its original capacity even after 1000 charges – and the bike also comes with multiple power assist modes to collect data in real-time to reduce energy loss while you ride. 
Shipping & Warranty
Shipping:

UK: Standard Tracked UK Delivery (3-7 working days)
EU*: Standard Tracked EU Delivery (3-5 working days)
US*: Standard Tracked US Delivery (3-5 working days)

Manufacturer's Warranty:

ADO offers a 1-year, all-inclusive manufacturer's warranty for the owner against all manufacturing defects.

*Delivery to the EU or US is free of charge and will not incur any customs duties or fees.
Still not sure? Read our reviews
We review hundreds of e-bikes across a variety of different categories. If you're not sure if the ADO A16+ is for you, you can always read our Best Electric Bikes Guide by clicking the button below.
The ADO A16+ at a glance
If nothing else, know these four things!

Smaller riders with any level of experience. The ADO A16+ is a small, approachable e-bike. If you're on the larger side, consider the ADO Air 20.

The ADO A16+ is ideal for...
Commuting on the road and storing in small places. The A16+ is small and nimble, perfect for commuting and folding away at home.

With a top speed of 15.5mph and a peak power output of 250W, the A16+ is totally legal on public roads in the UK. Read more in our handy FAQ's below.

Maintaining the ADO Beast
No different to a regular bicycle with gears, regular servicing of the A16+ is recommended. Some grease on the chain never hurt anyone!
About the Brand: A Dece Oasis
A Dece Oasis (ADO) produce a range of high quality e-bikes at affordable prices. Without compromising on reliability and build quality, ADO e-bikes represent an amazing value for money option.
The Electroheads top three features of the ADO A16+
These are our three favourite things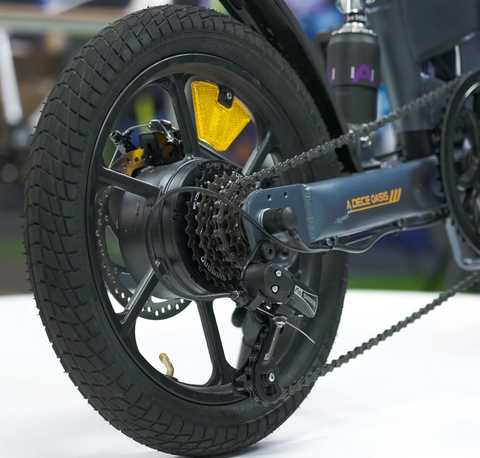 Anti-Slip Tyres
The A16+ is equipped with lightweight wheels wrapped in some seriously grippy rubber! No matter the condition of the road, the A16+ will get you where you need to go.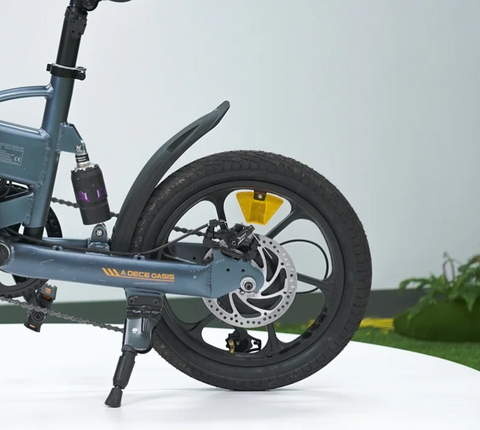 Disk Brakes
At this price point, having a set of disk brakes at your fingertips inspires confidence when you're riding.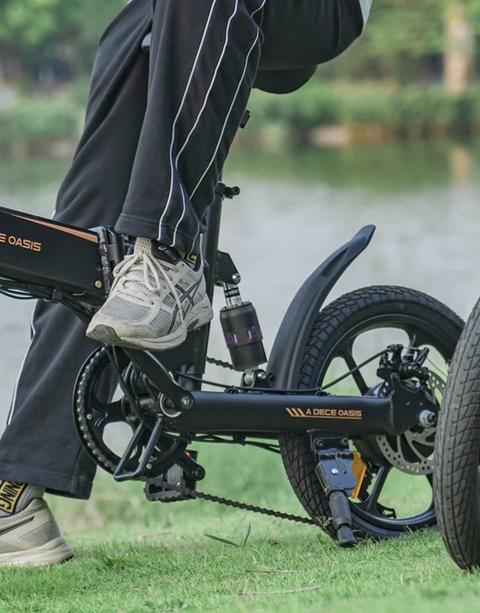 Rear Suspension
Not only does the A16+ have front suspension, it has rear suspension as well! Together, you can be sure of a smooth, comfortable ride.
Cycle the ADO A16+ to work
You can save up to 42% on the ADO A16+ if you purchase it using a Cycle to Work Scheme. For more information on how you can save, you can read our handy Cycle to Work guide by clicking the button below!
Frequently asked questions
How long will delivery take?
Delivery times vary based on delivery destination, brand and product.
For detailed information regarding the shipping of this item, please view the "Shipping and Warranty" dropdown above.
If you would like to review our full shipping policy, please click the link here
What kind of warranty do I get?
The level of warranty support is dependent on each brand and product.
For details on the warranty associated with this product, please view the "Shipping and Warranty" dropdown above.
I need some help! How can I contact you?
If you would like to contact us, please send us an email at hello@electroheads.com
Our customer care team will respond to you as quickly as possible!
Can I split the cost of my order?
Yes! We partner with both Payl8r and Klarna.
You can split the cost of your order by up to 12 months with Payl8r. For more informoation, please click here.
If you prefer to use Klarna, you can split the cost of your order in three, interest free!
Do you provide insurance for e-bike?
Yes! Electroheads has partnered with Laka Insurance to provide affordable e-bike insurance. Shopping at Electroheads also gets you 30 days free insurance with Laka! Please click here for more information.
Who do I get to maintain or fix my e-bike?
Nowadays, most of your local bike shops will be able to service and repair your e-bike if something goes wrong.
The brake systems, wheels, tyres, pedals and cranks on e-bikes are mostly no different from regular push bikes.
If you need further support, please contact us at hello@electroheads.com
Maybe the ADO A16+ isn't for you?
We recommend the Engwe T14
Join our growing base of happy customers:

Andrew Fellas
Estarli e20 - Verified Buyer
Electroheads' social media reviews are not only accurate, they are very helpful & enjoyable to watch. This led me to making a purchase via their website, the service I received was excellent and the item arrived on time. I would thoroughly recommend Electroheads.

★★★★★

Aris Donahue
Estarli e28 - Verified Buyer
I took a look at the tenways, but I ended up going for a Estarli e28 pro - pretty simliar price and specs.

★★★★★

Daniel Hogarth
Jeep Camou - verified buyer
The jeep camou 2xe has been a game changer. I love riding it, and I'm saving money on fuel. The scooter is fantastic, and the service from Electroheads was great, and the product arrived promptly.