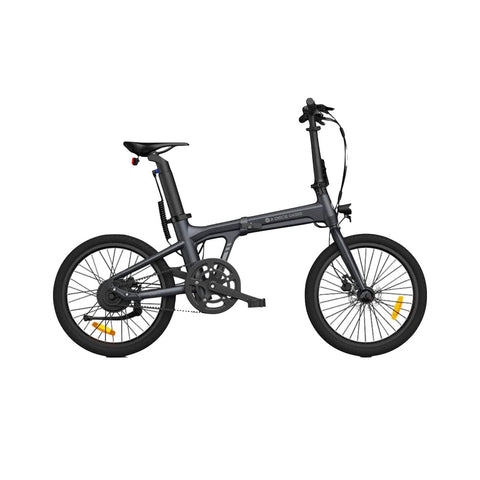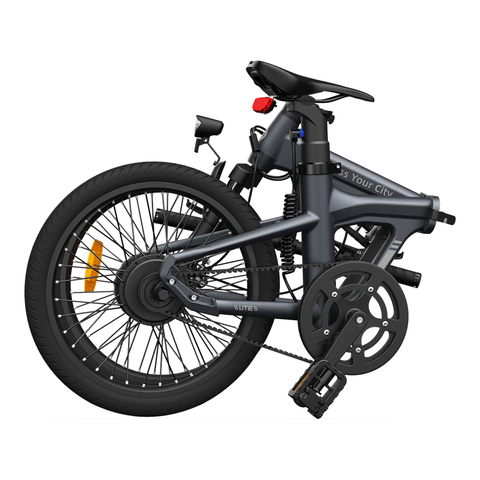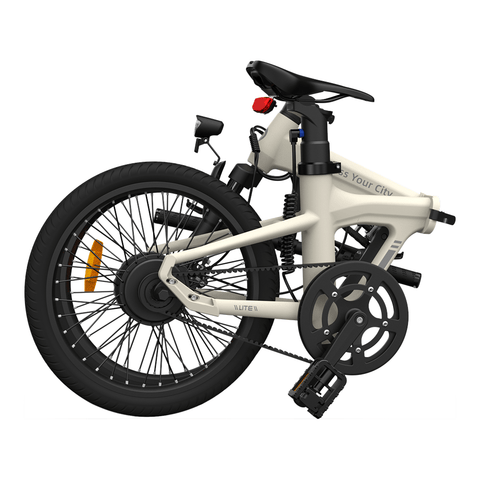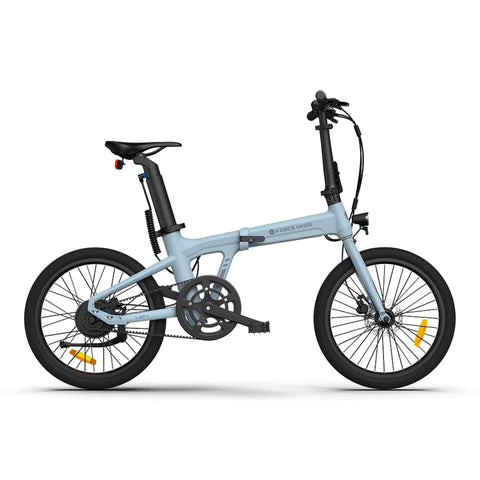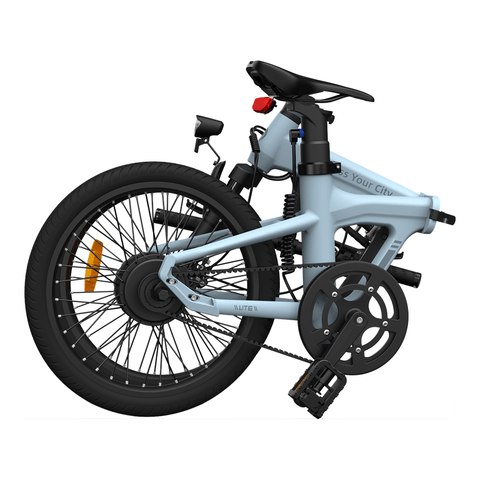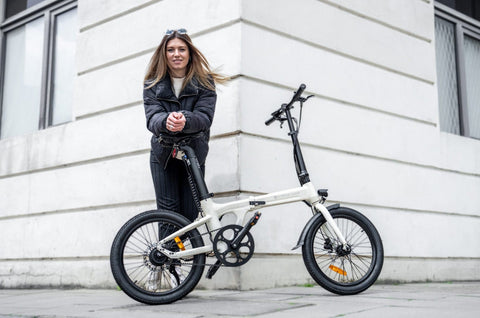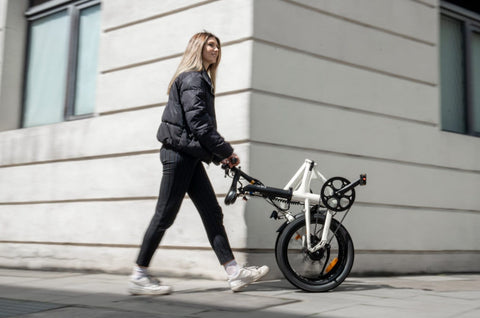 ADO Air 20 Electric Bike
FREE shipping in the UK 🇬🇧
Save between 22% and 42% when purchasing with a cycle scheme. Learn more here.
The aptly-named ADO Air 20 is an ultra lightweight foldable ebike designed for the multi-modal commuter. Simple to carry and easy to store, it weighs just 18kg. It also folds down to an impressively compact size (86 x 52 x 68 cm), meaning you can easily lug it up and down stairs or carry it on public transport. 
As well as being supremely practical, the ride quality is smooth and effortlessly powerful, with a carbon belt drive for maximum efficiency, and hydraulic brakes for quick stopping power – making the ADO Air 20 the perfect companion for the urban rider.


Please Note: The Air 20 comes with plastic mudguards in the box. Should you require the metal mudguards and rear rack please be aware that these will be dispatched separately.
Check out our full video review of the ADO Air 20 below:
Electroheads Verdict
"This bike isn't just made for folding, storing and carrying. I am REALLY impressed with the ride quality. It's powerful, gets you up to 15.5mph incredibly quickly and maintains that assist.

"It's also got a torque sensor so you can apply more or less power through the pedals as you need.

"As well as that, the single speed carbon belt drive means no rusty chains and a claimed maintenance free ride for up to 30,000km.

"With three levels of assist, the ADO is easy to ride and convenient to adjust. Hosting a Hall brushless rear motor, the bike drives you from the back wheel giving the illusion it's pushing you along, taking you seamlessly to your destination.

"It's also easy to squeeze through tight gaps – like standstill traffic – thanks to the smaller width handlebars, so you can kiss congestion goodbye.

"It also has a handy little feature to help you wheel it about. Simply roll the bike on its wheels and hold down the minus button and it gives you some assistance – so no need for carrying.

"The IPS colour display is really clear and easy to read in bright light and has an IPX7 rating, meaning it can be submerged up to 1 metre in water for 30 minutes?!

"As for the actual bike itself, the IPX 5 waterproof rating means it's water-resistant, rainproof, and splashproof... ideal for classic British weather."

– Eilis, Electroheads Lead Presenter
Specification
POWER & PERFORMANCE
• Battery: Samsung 18650 Lithium 36V
• Charger: 42V, 2A
• Charging time: 4-6 hours
• Hub motor: 250W 36V 37Nm Torque
• Max speed: 25 km/h
• Electric power range: 100 km
• Max load: 125 kg
• Sensor: Smart Torque Sensor

BUILD
• Net Weight: 18kg
• Dimensions: 1510 x 580 x 1100mm
• Rider height: 150-200cm
• Tyre size: 20 x 1.95"
• Water resistant: IPX5
• Wheel size: 20"
• Tyres: Rubber pneumatic tyre (American gas nozzle)
• Front and rear brakes: Hydraulic Disc Brakes

FEATURES
• Display: IPS LCD Colour display
• Headlight: 1200 Lumens
Shipping & Warranty
Shipping:

UK: Standard Tracked UK Delivery (3-7 working days)
EU*: Standard Tracked EU Delivery (3-5 working days)
US*: Standard Tracked US Delivery (3-5 working days)

Manufacturer's Warranty:

ADO offers a 1-year, all-inclusive manufacturer's warranty for the owner against all manufacturing defects.

*Delivery to the EU or US is free of charge and will not incur any customs duties or fees.
Why buy from Electroheads?
• We have free UK shipping on most products in our range.
• We are rated "Great" by our customers on TrustPilot.
• We offer 30 day free returns as standard (see our returns policy here).
• We offer at LEAST a 1-year warranty on ALL products.
• Our customer service is dealt with by real people in the UK, and we're always happy to hear from you.
• We're not just a website. You can visit us at our London Showroom where we have full-time mechanics and customer care.
Don't just take our word for it!
Customer reviews:
Andrew Fellas
Estarli e20 - Verified Buyer
Electroheads' social media reviews are not only accurate, they are very helpful & enjoyable to watch. This led me to making a purchase via their website, the service I received was excellent and the item arrived on time. I would thoroughly recommend Electroheads.

★★★★★

Daniel Hogarth
Jeep Camou - verified buyer
The jeep camou 2xe has been a game changer. I love riding it. The scooter is fantastic, and the service from Electroheads was great, and the product arrived promptly.

★★★★★

Aris Donahue
Estarli e28 - Verified Buyer
I took a look at the tenways, but I ended up going for a Estarli e28 pro - pretty simliar price and specs.

★★★★★