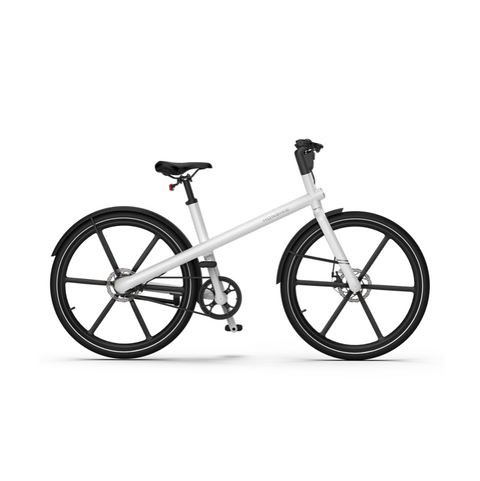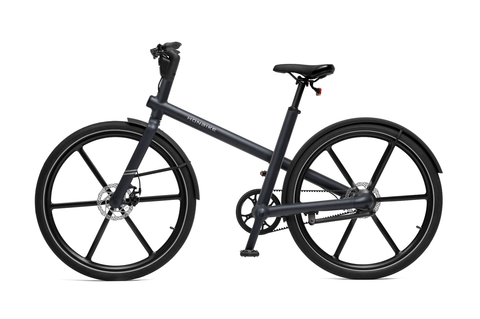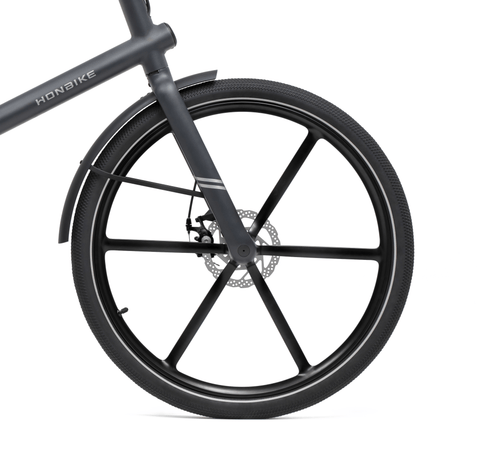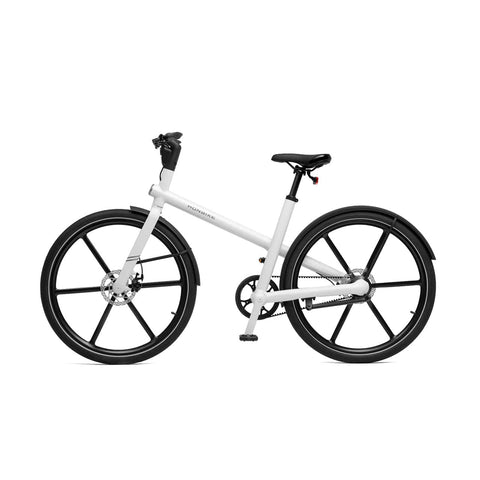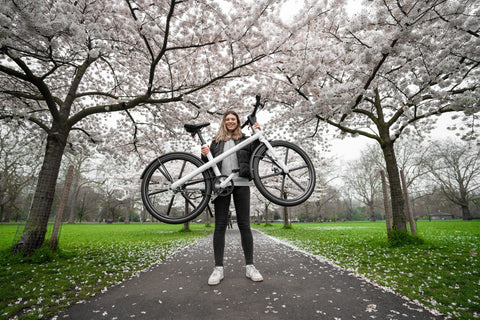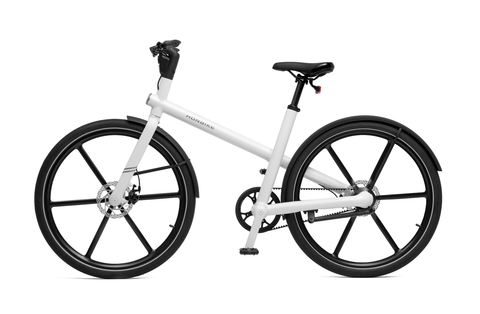 Honbike Uni4 Electric Bike
🇬🇧 Free UK shipping
Save between 22% and 42% when purchasing with a cycle scheme. Learn more here.
The Honbike Uni4 is designed to go the distance – with up to 100km of electric power range, making it perfect for commuters and explorers alike.

As well as being great for travelling long distances, the Uni4 is also easy on the eye, coming with a neat LCD display and companion app to keep track of your journey.
The bike has been compared to the likes of Vanmoof and Cowboy, but comes in at a fraction of the price point of those competitors. 
With thick profile tyres, a comfort saddle, and a smooth belt drive - the Honbike Uni4 is one of the most comfortable commuter bikes on the planet.
Check out our comprehensive review of the Honbike Uni4 below:
Electroheads Verdict
"If you want a lower cost, extremely comfortable commuter bike that looks great, weighs less than many of its competitors and delivers smooth assist, then look no further.

"The Honbike U4 really is a noble, near half-price competitor to the VanMoof and Cowboy bikes that has swiftly become one of my favourites."

–Eilis Barrett, Electroheads Lead Presenter
Specification
POWER AND PERFORMANCE
• Battery: Integrated lithium-ion 432W
• Charging time: 4 - 4.5 hours
• Motor: 36V 250W rear hub motor
• Max Speed: 25km/h
• Electric power range: Maximum 100km
• Max load: 120kg including luggage

BUILD
• Size: 1780 x 670 x 1035mm
• Weight: 20.2kg
• Color: White or Black
• Tyre size: 27.5" x 2.0
• Waterproof rating: IPX6
• Braking system: Disc brake

FEATURES
• Display screen: Handlebar integrated LCD screen
• Function: Light / speed / walk mode / riding mode / battery power / error indicator / lock indicator / bluetooth
• Riding modes: Eco, city, sport
• Light: F: LED R: LED
Shipping and Warranty
Shipping:

UK: Free Standard Tracked UK Delivery, 3-5 days.

Manufacturer's Warranty:

All Honbike products are covered by a 2 year warranty. For more information, please visit: https://www.honbike.com/en-gb/pages/warranty
The Honbike is here
The Honbike is the perfect electric bike for city riders and commuters who want a more affordable alternative to a Vanmoof or a Cowboy style e-bike.
It combines the stylish looks, comfort and performance of a high-end electric bike with an accessible price tag that makes living your electric dreams a reality. Perfect for those living in the city, commuting to work or college, or just looking for a fun ride to make the most of at the weekend.
250W hub motor
Effortless ride
Belt drive system
Controlled assistance
Hybrid tyres
Optimised grip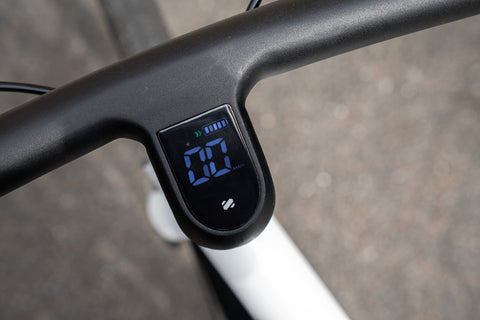 Clear display
Simple, effective, and has everything you need – the Uni4's display is an example of how sometimes less is more. The compact and clear design enables you to read important information whilst on the go, without needing your strongest reading glasses.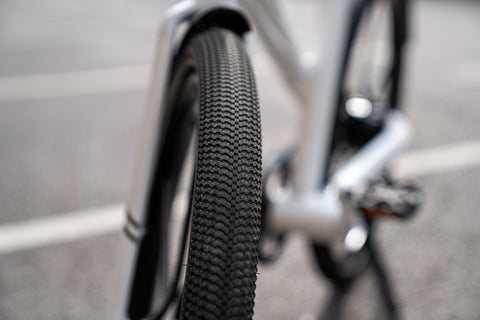 Crazy comfort
You might see a bike without suspension and immediately write it off as uncomfortable – a grave mistake with the Uni4. The bespoke woven tyre tread, two inch profile and comfortable saddle iron out the imperfections in the road surface. No sweat.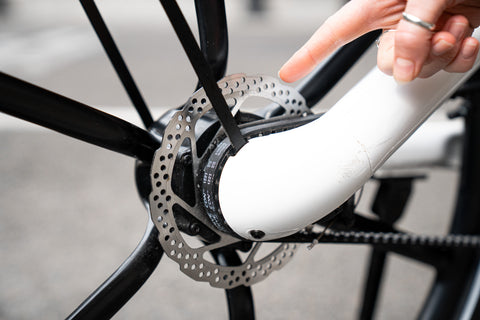 Disc brakes
Of course it's fun whizzing around on an electric bike, but it's also important to know how to come to a quick stop – and that you can. Effective front and rear disc brakes on the Uni4 ensure you can manage your speed, and slow down, fast.
"If you want a lower cost, extremely comfortable commuter that looks great, weighs less and delivers smooth assist, then look no further.
"The Honbike U4 really is a noble, near half price competitor to the VanMoof and Cowboy bikes that has swiftly become one of my favourites."
– Eilis, Electroheads Lead presenter
How does it stack up against the big names?
Up against the big names in the market, the VanMoof S5 and the Cowboy 4, let's take a look at how the Uni4 compares.
Cheaper – One of the real head-turning features of the Uni4 is the price, at £1,699 it's around £1000 cheaper than the Cowboy 4, and a jaw-dropping half the price of the Vanmoof S5. Sold yet?
Lighter – Weighing in at a very handy 20kg, the Uni4 is super easy to move around or carry. It's 3kg lighter than the top dog VanMoof, and just 1kg heavier than the Cowboy.
Further – The Uni4 has a listed range of up to 62 miles that translated to around 32 miles in the real world. The VanMoof boasts 97 miles but only offers 27 in our testing, with the Cowboy offering 50 miles but in reality giving around 20. Third strike to the Uni 4.
Join our growing base of happy customers:
Andrew Fellas
Estarli e20 - Verified Buyer
Electroheads' social media reviews are not only accurate, they are very helpful & enjoyable to watch. This led me to making a purchase via their website, the service I received was excellent and the item arrived on time. I would thoroughly recommend Electroheads.

★★★★★

Aris Donahue
Estarli e28 - Verified Buyer
I took a look at the tenways, but I ended up going for a Estarli e28 pro - pretty simliar price and specs.

★★★★★

Daniel Hogarth
Jeep Camou - verified buyer
The jeep camou 2xe has been a game changer. I love riding it, and I'm saving money on fuel. The scooter is fantastic, and the service from Electroheads was great, and the product arrived promptly.