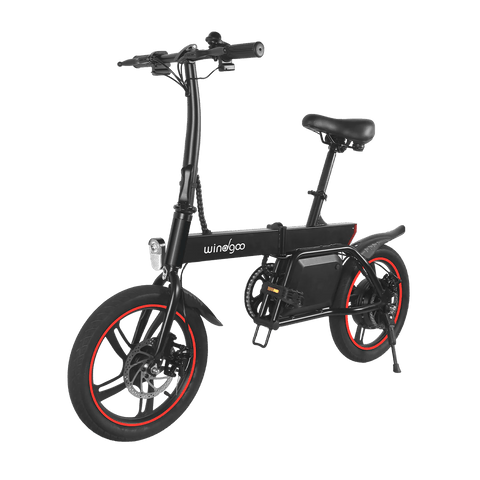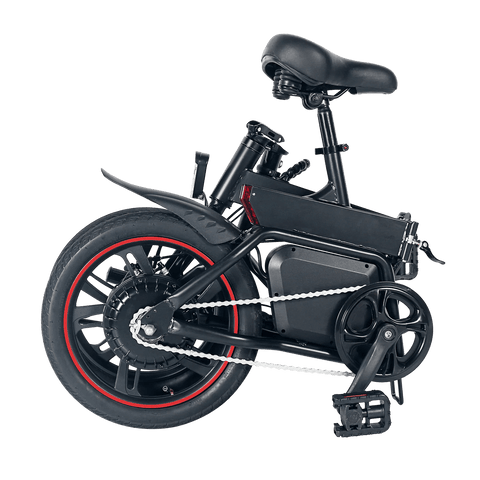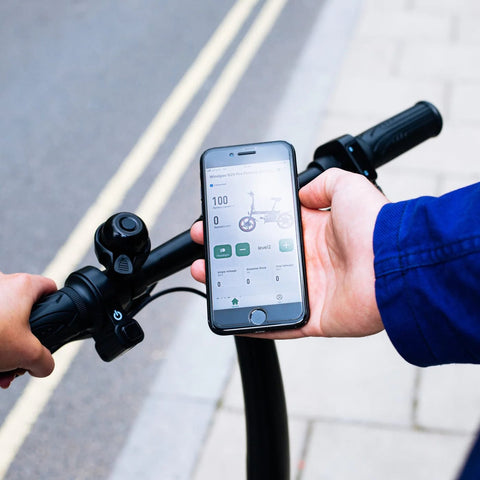 Windgoo B20 Pro Electric Commuter Bike
FREE shipping to: UK 🇬🇧 | EU 🇪🇺
Save between 22% and 42% when purchasing with a cycle scheme. Learn more here.
The Windgoo B20 Pro has a few upgrades compared to the Regular B20. This includes larger 16-inch tyres, a bigger battery and smart app. On top of that you get a 250W Torque motor, 35 km of range and the ability to fold for easy transportation and storage. 
Electroheads Verdict
With a larger battery, tyres and a smart app, the Windgoo B20 Pro is a compact folding bike built on the successes of the popular B20 model. In addition to disk brakes and led lights, the smart app makes this Windgoo feel premium.
Specification
Specification:
Size: Expand Size:1285*510*1015mm

Folded size:830*465*565mm

Tire: 16 X 2 inch

Weight
21 kg | 46.3 Ibs

Battery :36V/7.5Ah lithium battery | 5H full charging time

Range :35 km

Hub Motor :250W

Top Speed: 36V/7.5Ah lithium battery-5H full charging time

Payload Capacity: Expand Size:1285*510*1015mm-Folded size:830*465*565mm

Rider height: 25km/h

Riding style: 120 kg | 264 lbs

Brake system: 5'1"- 6'1"

Lighting system: No throttle

Waterproof performance
: PX4

Smart app: Yes

Cruise control: Yes
Shipping & Warranty
Windgoo orders are typically shipped within 3-10 working days of order confirmation/payment.

This Windgoo bike comes with a 6-month warranty for parts and repairs. Within 6 and 12 months, repairs are free but 50% of the cost of replacement battery/motor/controller is paid by the customer. Between 12 and 24 months, repairs are free but parts must be paid for.

For further information, please visit: https://windgoo.uk/pages/contact
Free Test Rides!
We offer free test rides of all our products at our London Bridge showroom, on Weston Street. Our team of experts will be on hand to answer all your questions.
We look forward to seeing you!
Why buy from Electroheads?
• We have free UK shipping on most products in our range.
• We are rated "Great" by our customers on TrustPilot.
• We offer 30 day free returns as standard (see our returns policy here).
• We offer at LEAST a 1-year warranty on ALL products.
• Our customer service is dealt with by real people in the UK, and we're always happy to hear from you.
• We're not just a website. You can visit us at our London Showroom where we have full-time mechanics and customer care.
Don't just take our word for it!
Customer reviews:
Mr L. Gilkerson
Ado Air 20 - verified buyer
Fantastic service bike arrived in the time estimated.
fedex delivery driver great sense of humour a very nice guy.
I purchased the Ado Air 20 from Electroheads due to a friend of mine who's a subscriber that recommended them.
Im very happy with the bike and I highly recommend Electroheads would buy from them again Thankyou.

★★★★★

Marty
Estarli e28 - verified buyer
After watching Eilis's review and comparison videos of the Estarli e28 I decided to buy it. I had a couple of queries which were answered really quickly, including replies to Instragram DMs from Eilis herself. Definitely recommend Electroheads and Estarli.

★★★★★
Eleanor
Estarli e20 Pro - verified buyer
After initially having a test ride, I recently purchased a bike from Electroheads and have waited to write my review to test out the bike first (Estarli E20 Pro). James and the team went above and beyond to ensure the bike was perfect for me and had any extras I needed. They also kindly fully assembled the bike and gave me a demo making sure I was set to go. I love the bike and I am beyond happy with my purchase. I cannot recommend their services enough.

★★★★★

Daniel Hogarth
Jeep Camou - verified buyer
The jeep camou 2xe has been a game changer. I love riding it. The scooter is fantastic, and the service from Electroheads was great, and the product arrived promptly.

★★★★★
Amelia Saberwal
Forme Buxton Pro-E - Verified Buyer
After following Electroheads on YouTube I bought an electric bike. I thought the reviews were really robust and now I have the product they were bang on. The team were so helpful and answered all my questions before buying.
Will definitely buy from them again!

★★★★★
Wojciech
Techtron Ultra 5000 - verified buyer
We bought Techtron 5000 . Great build quality. We are so happy with the purchase. Have been looking for long - this is the best choice you could ever make.

★★★★★