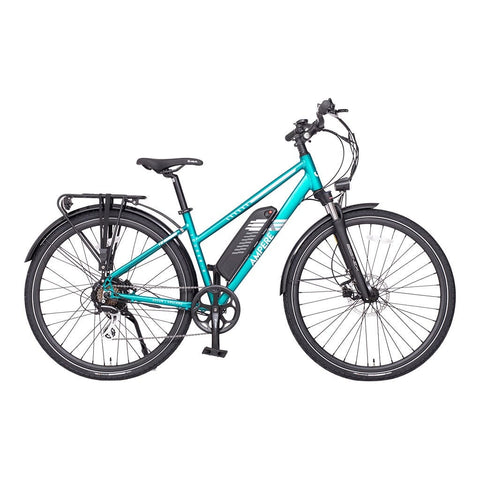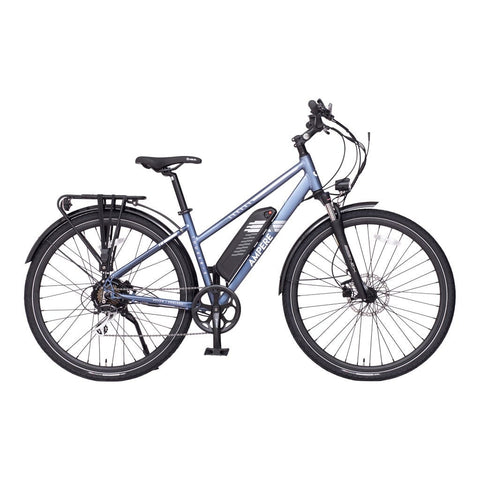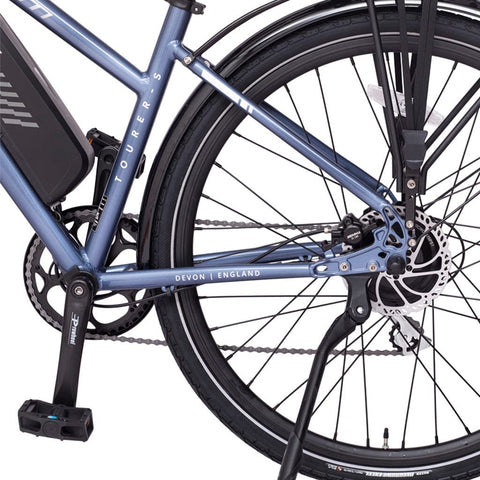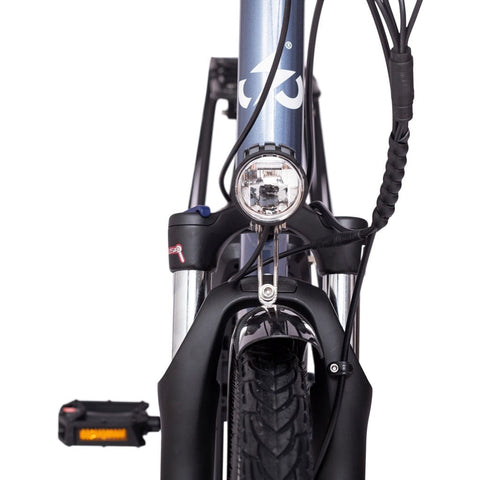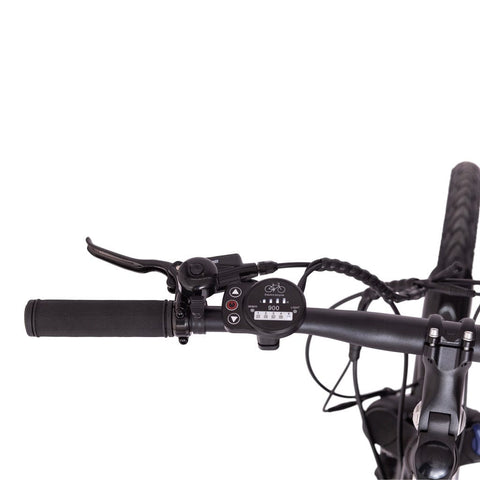 Ampere Tourer S Hybrid Electric Bike
FREE shipping to UK 🇬🇧
Save between 22% and 42% when purchasing with a cycle scheme. Learn more here.
The Ampere Tourer S is a premium quality, electric hybrid bike with a lower crossbar to make getting on and off a breeze. It's a 21st-century version of the traditional step-through bike – making it a great option for commuting, fitness, family and leisure so no surprise it's one of 
2023's best electric bikes
.
Electroheads Verdict
"The Ampere Tourer S Hybrid is an electric bike built with daily riding in mind, and in its simplicity has the ability to appeal to those taking their first steps into the ebike world, and more experienced riders looking for an upgrade.

"I really believe that the beauty of the Tourer S Hybrid is the fact that it's raw – it's a bike, first and foremost, enhanced by electric power. Simple.

"If you're looking for an ebike and you don't want the fuss of apps, keys, log ins, and all the other shenanigans, look no further.

"On the plus side, I found the Tourer S Hybrid performs well out on the road, is comfortable to ride, and easy to use." (Reviewer: Tim Fullbrook)
Specification
POWER AND PERFORMANCE
• Battery: 10.4Ah or 16Ah 36V Lithium-ion
• Electric power range: Up to 40 miles with 10Ah and 75miles with 16Ah
• Charging time: 6 hours
• Motor: Powerful 250Watt 36V brushless motor with up to 65Nm torque

BUILD
• Frame size: 17 inches
• Weight: 21kg (With 10Ah battery)
• Tyre properties: Kenda 700x45C puncture resistant tyre
• Braking system: 180mm front & 160mm rear hydraulic disc brakes

FEATURES
• Light: Integrated front and external rear Llight
• Mudguards: Acrylic shatterproof with stainless stays
• Kickstand: Yes
• Pannier rack: Yes
Shipping & Warranty
Ampere typically delivers within 48 hours of orders being placed.

Ampere offers a standard 12-month warranty. Customers can upgrade this for an additional 12 months for only £120 via the Ampere website.

For more information, please visit https://ampereelectric.co.uk/12-month-extended-warranty/
No fuss, pure electric bike goodness
Electric bikes should be three things: comfortable, easy-to-use, and fun. The Tourer-S Hybrid is those three in overflowing bucketloads.
There's no frilly bits, confusing apps or spaceship tech, this is an electric bike built for use anytime, anywhere.
Whether it's for your weekend rides, commute to work, or to complete your daily errands, the Tourer-S has an answer for everything.
Highlight features
Three of the coolest features on the Tourer S Hybrid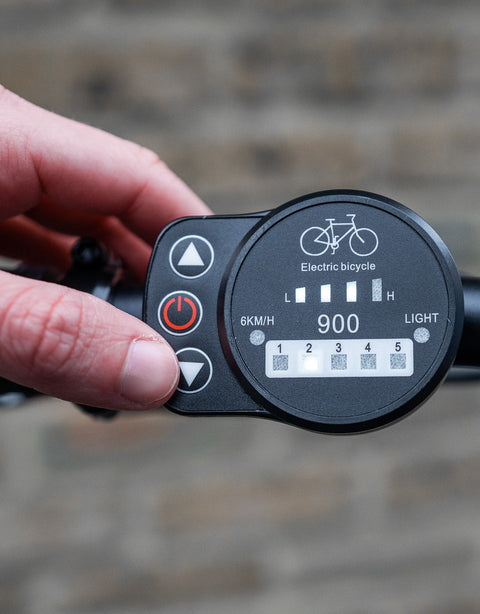 Control panel
The simple but clear control panel allows you to cycle through assist modes, view remaining range, and turn on the front light. If you do fancy a more detailed display you can add this for £75.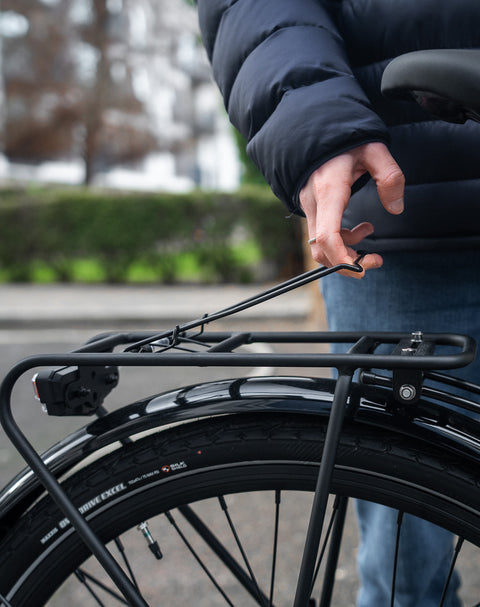 Rear rack
Don't leave anything behind thanks to a sturdy alloy rear pannier rack. This is strong enough to hold a basket, bag or crate, and is compatible with a number of accessories.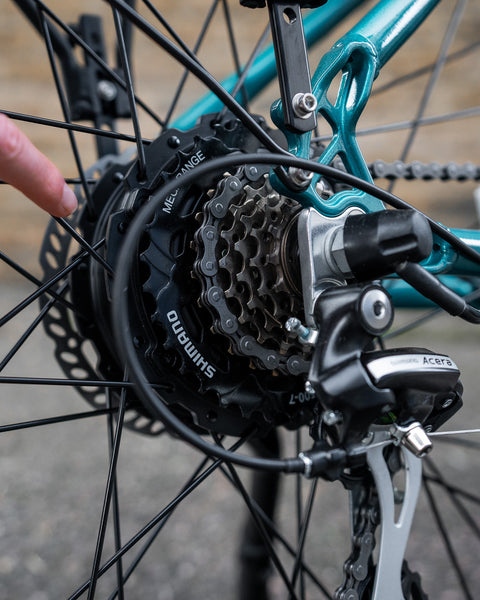 7-speed gears
Make molehills out of mountains, with the Shimano 7-speed gear set. Just like any mountain or road bike, these gears will help you tackle any terrain with ease. No sweat, just fun.
Want to know more?
Read our full review of the Tourer-S, which features ratings from our Ride and Review team, and a deeper look at the details that make this bike a fantastic option for everyone.
Get the best price
Can't wait to get your hands on a new e-bike, but always want the best deal?

Save up to 42% with the Cycle to Work scheme. You can learn more here.
Join our growing base of happy customers:
Andrew Fellas
Estarli e20 - Verified Buyer
Electroheads' social media reviews are not only accurate, they are very helpful & enjoyable to watch. This led to me making a purchase via their website, the service I received was excellent and the item arrived on time. I would thoroughly recommend Electroheads.

★★★★★

Aris Donahue
Estarli e28 - Verified Buyer
I took a look at the tenways, but I ended up going for a Estarli e28 pro - pretty simliar price and specs.

★★★★★

Daniel Hogarth
Jeep Camou - verified buyer
The jeep camou 2xe has been a game changer. I love riding it, and I'm saving money on fuel. The scooter is fantastic, and the service from Electroheads was great, and the product arrived promptly.